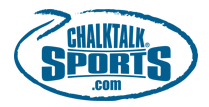 The feedback from coaches that we've talked to is that the kids on the teams love them.
Norwalk, CT (PRWEB) October 13, 2014
A sports jersey number is something to proud of -- something to be shown off -- and Chalk Talk Sports knows that. It's why the Connecticut-based sports gift and apparel retailer is now offering custom jersey number socks that feature the option to order socks that correspond to a player's jersey number 00 to 99. Customers select a left sock, then pick a right one with another number, pairing them together to show off the player's number in style.
"We've designed a product that allows athletes wear their jersey number on their socks," explains Ryan Lynn, Director of Marketing for ChalkTalk Sports. "No one else in the industry seems to be doing this type of customization with individual orders."
The socks are perfect for any type of athlete -- lacrosse players, basketball players, baseball players, softball players, field hockey players, and more. These half-cushioned mid-calf crew socks feature a woven, poly-nylon, moisture-wicking blend, making them comfortable, sleek, durable, and breathable. Essentially, they're an excellent performance sock for any type of athlete.
For more personalized apparel, ChalkTalk Sports also offers made-to-order socks. Customers can add their names, their team's name, and choose any color and design. As Lynn says, "Its essentially a build-your-own athletic team socks."
The sports gifts and apparel retailer added the new, number socks in early-September, making them a permanent addition to their line of high-quality sports gifts, accessories and apparel. Customers can order the number socks online, where ChalkTalk Sports offers and sells all of its exclusive gifts, accessories and apparel. Orders can be made by individual athletes or by entire teams.
"Normally you'd have to buy a product like this in a large batch; now you can purchase these individually and customize with your jersey number," says Lynn.
ChalkTalk Sports added the new number socks to their inventory because, as Lynn explains, "We've seen an increased demand in mid-calf length socks for athletes, and there were a lot of requests for this product and no way to fulfill an order where a customer could go online and order an individual pair. This is a unique way of incorporating a jersey number into an athlete's footwear. Athletes love the fact that their unique jersey is represented on their socks and coaches love that the sleek design creates a unifying look for the whole team."
After having offered the number socks for a couple weeks now, the feedback ChalkTalk Sports has received has been overwhelmingly positive.
"The feedback from coaches that we've talked to is that the kids on the teams love them," says Lynn. "They're comfortable and they've been very durable -- even after multiple washes -- which is absolutely vital to an athlete."
About ChalkTalk Sports
ChalkTalk Sports takes sports gifts and accessories to the next level -- for them, it's not just merchandise, it's a lifestyle. ChalkTalk Sports designs and manufacturers a variety of products for over 22 sports, including sports tees, room signs, sports jewelry water bottles, team gifts, coaches gifts, hats, headbands and more. To learn more about the company, visit http://www.chalktalksports.com.