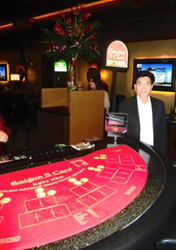 (PRWEB) October 13, 2014
Based off the number 10, the Saigon 5 Card table game, created by Matt and Jonathan Tang, will be introduced to the world in Jubao Palace at Seminole Hard Rock Hotel & Casino Tampa. One table will be available for guests.
The First game was played on Friday, October 10 – 10:10 a.m.
Seminole Hard Rock Hotel & Casino Tampa Jubao Palace, 5223 North Orient Road, Tampa, FL 33610
The game is played with a traditional deck of 52 playing cards and one joker. Each player receives five cards and forms two hands. The first hand has three qualifying cards and the second hand has two decision cards. In order to qualify the player must choose three cards that total 10, 20 or 30. If three of the five cards don't total 10, 20 or 30 then no further action is required and the following will occur – the player will either lose the non-qualifying hand to the dealer qualifying hand or push/tie to a non-qualifying dealer hand; or if a player requests their losing hand not be turned over, the dealer shall spread and count the backs of the cards before placing them in the discard rack. Learn more about Saigon 5 here
.
###