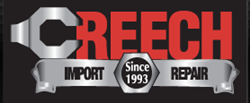 Expect to change your tire pressure twice a year: once in the summer, once in the winter.
Raleigh, NC (PRWEB) October 13, 2014
Creech Import is asking residents to keep their cars in good condition and perform necessary maintenance as cold temps draw near.
"This time of year we see a big increase in two areas," said Stan Creech, owner and president of Creech Import. "First, weak or dead batteries start to show up in our shop when the temperatures drop. Second, low tire pressure monitors turn on the warning light in the dash."
Creech recommends having your battery tested at every oil change interval to avoid getting stranded this winter. The average car battery lasts four to five years, but should be inspected with every oil change after three years. Cleaning off buildup with vinegar and baking soda can help a car's battery reach its maximum lifespan.
In order to encourage drivers to bring their cars in for an inspection, Creech Import will be offering 10% off repair services (up to a value of $50 for existing customers). This offer ends October 31st.
Colder weather is already causing dropping tire pressures. Low tire pressure can cause numerous problems, including premature tire wear and decreased fuel efficiency.
"Expect to change your tire pressure twice a year: once in the summer, once in the winter," Creech explained, saying that in most places tire pressure should be checked in late September or early October.
Creech Import also offers customers the option of having tire air replaced with Nitrogen. This only needs to be done once, and since nitrogen is moisture free, tire pressure won't change with the weather in the future.
"You know you need tire pressure and a battery, but you don't remember it until something happens to them," Creech concluded. "It's best to get them checked out before something happens."
Parents with teens starting driver's ed this fall may want to include their children in the process of having the car inspected for winter; a Michelin tire study released late last month showed that even teens who have their driver's licenses know very little on how to maintain a safe-to-drive car. Of the young drivers included in the study, 44% didn't know how to check tread depth -- an important precaution on icy winter roads -- and 32% didn't understand the importance of tire pressure.
Creech Import has been serving auto owners since 1993. Working on a wide variety of car makes and models, Creek Import's team of ASE certified technicians can provide everything from oil changes to engine repair and more. To learn more, visit http://www.creechimport.com