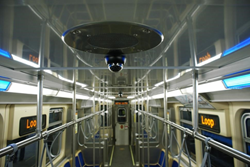 "Violence and harassment will not be tolerated anywhere in our city; from our streets to our schools," James told 1010 WINS reported CBS New York.
(PRWEB) October 16, 2014
An analysis published in The New York Daily News, on October 2, 2014, revealed sex crime reports were widespread on MTA, (Metropolitan Transportation Authority), subway cars in New York. In the analysis, women reported over 3,000 sexually related acts between 2008 and 2013. Most of the incidents occurred during the morning rush. The release of this study prompted a public outcry for additional security measures to be taken.
Taking the lead, Public Advocate Letitia James, along with several other advocacy groups have been pressing for additional security measures on MTA subway cars to prevent sexual assaults. According to CBS New York, on October 1, 2014, "Violence and harassment will not be tolerated anywhere in our city; from our streets to our schools," James told 1010 WINS, further increasing momentum from the public to step up security by funding the installation of security cameras on subway cars.
The MTA has agreed to place surveillance cameras in hundreds of new train cars it expects to purchase between the 2015 and 2019 capital plan, which will cost $32 billion, despite a current $15 billion shortfall. Security cameras will only be placed on future cars, which will have the appropriate wiring, power sources and compartments to house the security cameras.
James who is pleased with the decision to utilize security cameras on subway cars also states that a new feature on its website has been implemented to make it easier for victims and witnesses of sex crimes in the subway system to make a report. In addition to these measures, the authority also intends to ramp up a public education campaign that aims to increase awareness of the threat posed by sexual predators in the subway, James announced.
Eric Carter, Director, at The Security Product Depot applauds the initiative, "Today's security cameras offers high resolution by providing a crisp image in bright or very low light and are less expensive than putting officers on the ground. In addition, they are more effective due to the ability to capture and playback video on demand".
The Security Product Depot is an established online provider of physical security products and security information. They are committed to offering a broad array of the latest technology to help their clients protect their assets and property.