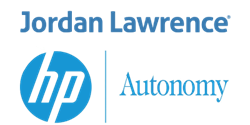 Working together, we can address the three P's of successful information governance programs - product, policy and process. David Gould, WW Director, HP Information Governance Software of HP Autonomy.
St. Louis, MO (PRWEB) October 15, 2014
Jordan Lawrence, a leading provider of records management and information governance expertise and consulting services, today announced it has joined HP's Global Partners Program as part of its strategy to help companies take control of their electronic information.
Defensibly reducing the volume of unnecessary electronic information affords companies multiple benefits. Information governance programs are more efficient, business-related information is more accessible and risks imposed by litigation and investigations are reduced. Yet most companies still don't dispose of redundant, obsolete and trivial information (ROT) in the normal course of business because they don't know where to start, don't have defensible policies or don't have the right technologies in place.
Together with HP, Jordan Lawrence can help its customers to bridge the gap between the technology teams that manage electronic information and the legal teams responsible for how long to keep it. Bringing these experts together enables companies to tackle information sprawl and shine a light on dark data sitting unmanaged in email repositories, file shares, and SharePoint sites. By assessing what they have, where they have it and how long they need to keep it, companies can make information management decisions that meet their needs from a business, legal and technology perspective. Only then can they begin to develop defensible programs that achieve information compliance by making it possible to not only access information, but also understand, classify, and reduce outdated and unnecessary legacy content.
"Companies are drowning in information" said Marty Hansen, EVP of Technology at Jordan Lawrence. "Without a solid and defensible corporate records management program that is consistently enforced, the risk of failing to meet business and compliance obligations is high. That's why being an HP partner makes sense, Jordan Lawrence provide defensible processes and industry best practices for records retention that can be incorporated into HP's industry leading records management software."
"HP's comprehensive suite of Information Governance products has helped thousands of global enterprises to identify and connect their information silos, automate the classification and application of policy and manage-in-place or migrate their data, so they can manage, dispose or retain it as needed," said David Gould, WW Director, HP Information Governance Software. "We are pleased that Jordan Lawrence has joined HP's Global Partner Program to provide essential consulting skills and knowledge to establish the appropriate policies and practices for these organizations."
About Jordan Lawrence
For nearly three decades, Jordan Lawrence has worked with the world's premier companies to develop and implement records management programs that work. Jordan Lawrence provides proven, fast and affordable services that help any company meet current and ever changing legal and business requirements related to records management and information governance.
Additional information is available at jordanlawrence.com