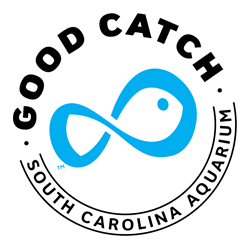 Charleston, S.C. (PRWEB) October 13, 2014
The South Carolina Aquarium is proud to introduce Good Catch, a program previously known as the Sustainable Seafood Initiative. Good Catch was developed to bolster the success of the organization's Sustainable Seafood Initiative while heightening awareness of sourcing and selling sustainable seafood – all in an effort to provide consumers, diners and seafood lovers with the information necessary to choose responsibly harvested seafood.
"For the past 12 years, we have worked hands-on with chefs from across the state," said Kevin Mills, South Carolina Aquarium President and CEO. "Good Catch represents the next chapter in our desire to engage our entire community in the protection of vulnerable species."
The program aims to remind communities that a Good Catch is sustainable – one that is caught or farmed with consideration for the long-term viability of their species and for the ocean's ecological balance as a whole. The South Carolina Aquarium's more than 115 trusted restaurant partners continue to share the same mission of selecting species from sustainably managed fisheries. Shelley Dearhart, Good Catch Coordinator, will continue to spearhead the organization's efforts in the community, working closely with chefs and industry leaders to highlight their unique culinary offerings that feature sustainable seafood.
Dearhart will assist in the organization of Good Catch dinners, which are held at partner restaurants. A popular option for seafood enthusiasts, Good Catch dinners feature entrees that are specifically prepared with sustainable seafood and include educational messaging from a Good Catch team member.
"As consumers, we have the power to protect ocean life on an incredible scale by simply choosing to eat seafood that is harvested sustainably," said Dearhart. "Placing additional emphasis on supporting fisheries that are making the right choices ensures the future health of our oceans."
Currently, the world's oceans are under immense pressure due to an increasing worldwide demand for seafood, resulting in overfishing and destructive fishing practices. Good Catch underscores the South Carolina Aquarium's commitment to maintaining a healthy ecological balance to connect people with water, wildlife and wild places.
Join the South Carolina Aquarium for the first Good Catch event
Beyond the Classroom
Thursday, Oct. 16, 2014
Join the South Carolina Aquarium for the first Good Catch event, Beyond the Classroom, being held Thursday, Oct. 16, 2014 at 5:30 p.m. at the GrowFood Carolina Warehouse. Learn tips and best practices related to sustainability efforts in our state's seafood industry, and hear more about Good Catch from our coordinator, Shelley Dearhart. Good Catch partner chefs from Whole Foods Market, Edmund's Oast, and Oak Steakhouse will be on hand to create delicious sustainable seafood dishes. Tickets are $30 per person with proceeds benefiting Good Catch at the South Carolina Aquarium.
For more Good Catch information, visit scaquarium.org/goodcatch. One small change can make a big difference in the future of our oceans.
Fast Facts:

South Carolina Aquarium's Sustainable Seafood Initiative is now Good Catch
Good Catch generates awareness and leads communities in support of healthy fisheries and consumption of responsibly harvested seafood.
South Carolina Aquarium's Shelley Dearhart is South Carolina Aquarium's Good Catch Coordinator
More information may be found at http://www.scaquarium.org/goodcatch
About The South Carolina Aquarium Good Catch:
Good Catch generates awareness and leads communities in support of healthy fisheries and consumption of responsibly harvested seafood. The program pragmatically balances the health of the environment with South Carolina's demand for seafood by working with consumers and chefs, helping them make wise seafood choices to support healthy, abundant oceans. More than 115 restaurant partners have committed to serve and purchase sustainable seafood whenever possible and to avoid species that are immediately vulnerable to extinction. As a community, when we choose seafood from local, sustainably managed fisheries or dine at restaurants which do the same, we minimize our impact on the environment. Find the most up-to-date Good Catch partner list and more information on making good seafood choices each season at scaquarium.org/goodcatch.
About the South Carolina Aquarium:
The South Carolina Aquarium, Charleston's most visited attraction, features thousands of amazing aquatic animals from river otters and sharks to loggerhead turtles in more than 60 exhibits representing the rich biodiversity of South Carolina from the mountains to the sea. Dedicated to promoting education and conservation, the Aquarium also presents fabulous views of Charleston harbor and interactive exhibits and programs for visitors of all ages.
The South Carolina Aquarium, a 501(c) (3) not-for-profit organization and is open daily from 9 a.m. to 5 p.m. The Aquarium is closed Thanksgiving Day, half day Dec. 24 (open 9 a.m. to 1 p.m.) and Dec. 25. Admission prices are: Toddlers (2 and under) free; Youth (3-12) $17.95; Adults (13+) $24.95. The Aquarium plus the 4-D Theater experience is free for Toddlers, $22.95 for Children, $29.95 for Adults. The 4-D Theater experience only is $6.95 for Children and Adults, and free for Members. For more information call 843-720-1990 or visit scaquarium.org. Memberships are available by calling 843-577-FISH.