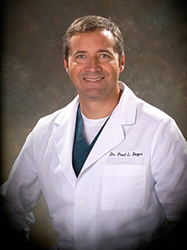 Jamestown, NY (PRWEB) October 13, 2014
People who suffer from gum disease in Jamestown, NY can now visit Dr. Paul Boger for the LANAP® protocol, which is an advanced type of laser gum surgery. This procedure protects oral health by treating periodontal disease while preserving healthy gum tissue. The procedure also offers patients a low risk of unwanted complications, such as bleeding, discomfort, and infection.
During the procedure, Dr. Boger uses the PerioLase® MVP-7™, which is a specialized laser that only affects harmful bacteria and diseased tissue. Healthy tissue is not damaged or lost during the procedure. Dr. Boger simply targets gum disease with the PerioLase® MVP-7™, cleans below the patient's gumline with an ultrasonic tool, and uses the laser again to stimulate blood clot formation. This protects the surgical area from infections. Many patients return to normal activities the next day. In addition to this short recovery time, laser gum surgery offers a few unique benefits. It minimizes gum tissue loss, leaving more tissue in place to protect the teeth. The procedure also stimulates regeneration in the alveolar bone. This helps the teeth attach more firmly to the bone, making tooth loss less likely.
People with gum disease in Jamestown, NY may face various health problems if they do not seek treatment. Advanced periodontitis can cause damage to the gums, the alveolar bone, and other supportive connective tissue. As the condition progresses, gum tissue recedes and gum pockets form, leaving teeth more exposed and mobile. Bite alignment issues can develop as the teeth become looser, and eventually, the teeth may be lost. Research has also suggested that people with poor periodontal health are more likely to suffer from various systemic health problems, such as heart disease. Dr. Boger's laser gum surgery can reduce the risk of these oral and general health consequences.
Strong oral hygiene habits can often prevent gum disease, but people should always be alert to potential signs of the condition. These include gum swelling, redness, bleeding, and gum recession. Changes in tooth positioning may also occur along with advanced gum disease. People who experience these symptoms are encouraged to call Dr. Boger's office to set up a consultation regarding treatment for gum disease in Jamestown, NY.
About the Practice
Market Street Dental is a general practice offering personalized dental care for patients in Warren, PA. Dr. Paul Boger is a 1993 graduate of the University of Pennsylvania School of Dental Medicine, and has been committed to adopting the latest technologies for more than 20 years for the benefit of his patients. Dr. Boger belongs to the one percent of dental professionals currently providing the LANAP® protocol, the first FDA-cleared laser procedure for gum disease and periodontal treatment. Dr. Boger is a certified instructor for the Institute for Advanced Laser Dentistry and has helped to train doctors from all over the country (and several from abroad) in the LANAP® protocol. To learn more about Market Street Dental and their dental services, visit their website at http://www.dentistwarrenpa.com or call (814) 313-1866.