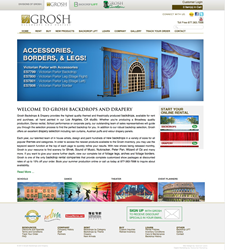 We took careful consideration in building the new online storefront to create a user friendly experience.
Hollywood, CA (PRWEB) October 14, 2014
It's Showtime for Hollywood-Based Grosh Backdrops & Drapery's dazzling new website. When customers go to Grosh.com today, they can immediately start power shopping for their stage production, school or event by clicking on an array of new self-explanatory navigation tabs which standout on the clean and bright white background.
"We took careful consideration in building the new online storefront to create a user friendly experience," said Amanda Uhlein, Grosh Backdrops & Drapery president.
The redesigned Grosh.com offers new item features to help speed customers through the company's extensive inventory and services. For instance, the "Suggested Items" tab provides customers with other backdrops that are frequently rented with the item they are viewing. "If a client is looking at an Emerald City for Wizard of Oz, the suggested items would show them a cornfield and a Munchkinland backdrop which will help complete their production," said Uhlein. "This function was not available before."
The "Related Themes" tab offers customers hyperlinks to popular shows and themes related to the particular drop they are currently viewing. The "Accessories" tab shows customers legs, borders and arches which complement the item they are considering. And customers can click on "Recently Viewed Items" to easily navigate to items they had earlier considered.
Grosh.com new online ordering features make it easy for customers to get what they need whenever and wherever they need it. Online ordering is available 24/7. "The system provides customers with a complete quote including shipping and applicable taxes, as well as, an option to purchase the Grosh Damage Waiver," said Uhlein. "If the item the client is looking to rent is unavailable for their dates, our system will generate a list of similar backdrops that are available for their show."
The Grosh.com shipment tracking feature is also more visible and easier than ever before! Uhlein says "The client simply enters the five to six digit order number from Grosh and once the item has been picked up by Fed Ex, customers can track the progress of the shipment coming to them, or returning to Grosh."
Grosh Backdrops & Drapery is among Hollywood's longest supporting partners. Grosh provides the highest quality themed and theatrically produced hand-painted backdrops for professional stage productions, dance recitals, school performances and corporate parties. Grosh also offers an excellent drapery selection including rain curtains, Austrian puffs and velour drapery panels.
Grosh strives to constantly improve how scenery comes to life in the theater world by evolving with the industry. Among the improvements, Grosh has greatly simplified how backdrops and drapery are hung by designing and developing a portable telescoping lifting system, called the "BackdropLIFT." For more information about Grosh Backdrops and Drapery and their other divisions, Grosh Custom and BackdropLIFT, you can visit http://www.GROSH.com.
You can also contact Shawn Glaspell at the Spencer Lewis Marketing Group at 909.945.5247. http://www.spencerlewis.com