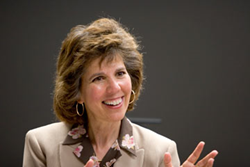 This study proves that there is a scalable, digital solution to increasing school readiness -Susan B. Neuman, Former U.S. Assistant Secretary of Education
New York, NY (PRWEB) October 14, 2014
Dr. Susan B. Neuman Former U.S. Assistant Secretary of Education and Professor of Early Childhood & Literacy Education at New York University announced today that in a recent randomized study, preschool-aged children increased early reading skills by 74% when using Learn with Homer, the iPad-based early literacy and phonics program.
When asked why these findings were significant, Dr. Neuman stated: "This study proves that there is a scalable, digital solution to increasing school readiness and preventing learning loss in young children. In just six weeks, with no intervention from teachers, students who used Learn with Homer on iPad for 15 minutes per day significantly improved the key skills most highly correlated with future reading success. That's a pretty big deal."
The blind, randomized study set out to determine whether Homer's Learn to Read method delivered via iPad made a difference in advancing school readiness skills in young children, especially those skills most predictive of future reading success. The study was conducted among a group of 4 and 5 year olds in 7 classrooms at a Brooklyn preschool program over a 6-week period in the summer, a time when children often experience significant learning loss. Half of the group used the Learn with Homer app on iPad for 15 minutes a day without the assistance of teachers; the other half of the group used a math app for the same period and duration.
On standardized assessments administered at the beginning of the study, students in the treatment and control groups scored at equal levels in most skills areas of the TOPEL (Test of Early Preschool Literacy). In the area of phonological awareness, students in the control group scored significantly higher than the students in the treatment group. By the end of the 6 weeks, students who used Learn with Homer out-performed the control group on all areas of the test. In the area of phonological awareness, treatment students nearly doubled scores, while scores of students in the control group decreased.
While delighted by the outcomes, Stephanie Dua, Learn with Homer's Founder & CEO, was not surprised that Homer's literacy method works. Dua, a former Senior Advisor to the Common Core Standards effort and member of Mayor Michael Bloomberg's New York City Department of Education, says she created Learn with Homer "to bring the best possible early childhood teaching to the family living room. No parent should worry whether their child will be one of the 60% of children who can't read by 4th grade. Our team had a vision that bringing together intuitive technology and research based instruction could make reading success possible for every family. Now we have proof that it really works."
CONTACTS:
Keith Meacham 917-370-4548, keith(at)homerapp(dot)com
For more information on Learn with Homer visit their website