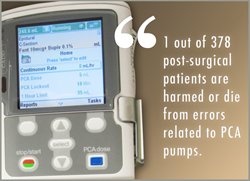 As Saint Joseph's/Candler's success shows, these tragic outcomes are entirely preventable. Just imagine how many lives could have been saved had other hospitals throughout the nation instituted the use of capnography at the same time St. Joseph's/Candler
Chicago, IL (PRWEB) October 14, 2014
The Physician-Patient Alliance for Health & Safety is celebrating with St. Joseph's/Candler Hospital (SJ/C) as the Savannah, Ga., institution proudly marks 10 years of being "event free" in terms of opioid-related adverse outcomes.
An article posted today on the PPAHS website describes how SJ/C's respiratory therapy staff has successfully protected its patients from respiratory depression and other life-threatening risks faced by patients receiving patient-controlled analgesia after surgery for more than a decade. SJ/C mandated the use of capnography to continuously monitor PCA patients in June 2004.
"PPAHS wholeheartedly salutes St. Joseph's/Candler Hospital's decade of 'event-free' success with capnography," said PPAHS Executive Director Michael Wong, JD. "I'm thrilled by this remarkable achievement because it provides a clear demonstration of how incredibly effective continuous monitoring can be in protecting the lives and safety of PCA patients. At the same time, I can't help but be reminded of tragic cases like those of Amanda Abbiehl and John LaChance, whose deaths might have been prevented with continuous monitoring."
Mr. Wong – along with Harold Oglesby, Registered Respiratory Therapist (RRT), Manager, The Center for Pulmonary Health, Candler Hospital, and SJ/C – are among a growing roster of patient safety advocates who believe that continuous monitoring of post-surgical patients receiving opioid analgesics should be a National Best Practice Standard of Care.
"According to research, between 20,800 to 678,000 PCA patients experience life-threatening, opioid-induced respiratory depression each year," says Mr. Wong.
Moreover, this safety issue is costly. According to the U.S. Department of Health & Human Services' Agency for Healthcare Research and Quality, the annual cost of respiratory compromise was $7.8 billion in 2007, making respiratory compromise the third most rapidly increasing hospital inpatient cost in the United States.
"As Saint Joseph's/Candler's success shows, these tragic outcomes are entirely preventable. Just imagine how many lives could have been saved had other hospitals throughout the nation instituted the use of capnography at the same time St. Joseph's/Candler did," concludes Mr. Wong.
To help hospitals implement continuous monitoring technology at their respective institutions, PPAHS – with the input from a panel of leading healthcare experts – has created a PCA Safety Checklist. Opioid safety is one of three key initiatives of PPAHS.
About Physician-Patient Alliance for Health & Safety
Physician-Patient Alliance for Health & Safety is an advocacy group whose mission is to promote safer clinical practices and standards for patients through collaboration among healthcare experts, professionals, scientific researchers, and others, in order to improve health care delivery. For more information, please visit the Physician-Patient Alliance website.