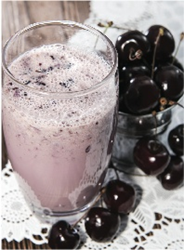 Use all organic ingredients when possible.There's about 43 grams of caffeine in this one, but some days I need a little caffeine.
(PRWEB) October 14, 2014
"It is very difficult to find healthy recipes that include real, healthy ingredients for your family," said Gail Bowman, owner of Healthy Vitamins, an online health food store. "I am always excited to see what Gwen Eagan, Garden of Life's educator and raw chef, will come up with next. These recipes are definitely going in my recipe file. They are terrific!"
SWEETHEART SMOOTHIE (This one will give you a boost)
Serves 1-2
INGREDIENTS (Use all organic ingredients when possible.)
1 scoop Garden of Life® Perfect Food® Energizer
1 scoop Garden of Life RAW Protein Marley Coffee Flavor
2 cups unsweetened almond milk
1 cup frozen dark cherries
1 ripe banana (or 1 cup of frozen banana chunks)
PREPARATION
Place all ingredients into a blender and blend until smooth. Enjoy immediately.
HALIBUT WITH COCONUT CURRY BROTH
Serves 2
INGREDIENTS
2 5-ounce halibut fillets (skin on)
1 cup of shallots, thinly sliced
3 garlic cloves, finely chopped
1 Tablespoon finger root, finely chopped
2 Tablespoons Garden of Life® Extra Virgin Coconut Oil
2 teaspoons curry powder
1⁄2 teaspoon salt
1⁄2 Tablespoon coconut aminos or wheat-free tamari
1 1⁄2 cup chicken broth
1⁄2 cup light coconut milk
cilantro
lime
cooked jasmine rice
PREPARATION
The "Halibut with Coconut Curry Broth" is beneficial due to the essential fatty acids in the fish. I use GOL coconut oil in this recipe. The fish melts in your mouth and the curry broth is very warming. Use all organic ingredients when possible.
Heat coconut oil in a skillet. Add shallots and garlic and cook on medium heat for 3-to-5 minutes. Add ginger and cook for another minute. Add chicken broth, coconut milk, coconut aminos, salt and curry and simmer for 2-3 minutes. Add a dash of salt to each halibut fillet then place in broth, skin side down. Reduce heat to a low simmer, cover skillet with a lid and cook halibut for about 8 minutes, or until it is completely done. Serve over jasmine rice, and make sure to add some of the broth into each dish or bowl. Top halibut with chopped cilantro and fresh lime juice if desired.
MAMA'S LEMON GINGER TREATS
Makes 20
INGREDIENTS
1 cup walnuts
1 cup macadamia nuts
1 cup coconut flakes
1⁄2 cup gluten-free oats
10 dates, pitted and soaked in water for about 20 minutes
1 scoop of Garden of Life® RAW Protein Vanilla Flavor
2 Tablespoons lemon juice
1 Tablespoon Garden of Life Extra Virgin Coconut Oil
1 teaspoon grated ginger root
1 teaspoon grated lemon peel
PREPARATION
Place walnuts, macadamia nuts, coconut flakes and protein powder into a food processor using the "s" blade. Process until well mixed and nuts are broken into very small pieces. Add remaining ingredients and pulse until well mixed. Press mixture into a brownie pan and refrigerate for a few hours so that texture hardens. Top with lemon coconut glaze (recipe below).
LEMON COCONUT GLAZE:
In a blender, combine 1⁄4 cup lemon juice, 1⁄4 cup light coconut milk, 3 Tablespoons maple syrup and 2 Tablespoons of coconut oil. Blend until smooth and refrigerate for one hour, then stir a few times and spread about one-half of the glaze on top of the lemon squares. Place pan in refrigerator again for another hour before cutting and serving. Save the rest of the mixture for a fruit dip or an ice cream topping. Lemon squares last 2 weeks in refrigerator or 2 months frozen.
3-POINT PUMPKIN SMOOTHIE
INGREDIENTS
1 scoop Garden of Life® Vanilla Spiced Chai RAW Meal
2 cups organic unsweetened almond milk
1⁄2 cup organic pumpkin puree
1 1⁄2 cups frozen organic banana chunks
10 drops SweetLeaf® liquid stevia, cinnamon or vanilla cream flavor
PREPARATION
Place all ingredients into blender and blend until smooth. Savor the rich and creamy taste of pumpkin pie for your game day celebration with nothing but healthy ingredients.
FIRST DOWN YOGURT AND AVACADO DIP
INGREDIENTS
4 ripe organic avocados, peeled and chopped
1 cup of organic, plain, whole fat probiotic-rich Greek yogurt
4 Tablespoons fresh organic cilantro, chopped
2 Tablespoons ground cumin
1⁄2 teaspoon Celtic sea salt
1 organic garlic clove, minced
1/2 cup finely chopped organic onion
3 Tablespoons fresh lime juice
PREPARATION
Place all the ingredients in a food processor or blender and process until smooth. Serve with sprouted tortillas, pita or chips.
RAW PROTEIN 2-MINUTE WARNING CHEWIES
INGREDIENTS
3 cups rolled old-fashioned oats
1 cup of organic brand peanut butter
1⁄2 cup vanilla almond milk or regular milk
1 teaspoon vanilla
1⁄4 cup Garden of life Extra Virgin Coconut oil (can also substitute 1⁄4 cup butter, if you prefer)
1 scoop or one packet of Garden of Life Raw Protein Vanilla or Original Flavor
1 Tablespoon stevia extract
PREPARATION
In a large saucepan, mix the stevia extract, coconut oil and almond milk. Bring to a full boil for one minute and stir the mixture constantly so it does not stick to the pan. Remove from heat and add peanut butter and vanilla, stirring until peanut butter is completely melted.
Stir in the oats and RAW Protein, and stir well with a wooden spoon until combined. Quickly drop spoonfuls on sheets of wax or parchment paper and cool completely.
Gail Bowman is the owner of Healthy Vitamins, an online health food store that has specialized in whole food vitamins and supplements for over 10 years. Healthy Vitamins carries Garden of life, Megafood and New Chapter vitamins as well a Aubrey Organics and Miessence skin and hair care products.