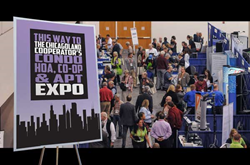 (PRWEB) October 14, 2014
Board members of condo, HOAs and co-ops know that it can be a tough job sometimes. Part administrator, part mediator, part project coordinator, they have to wear a lot of hats and make decisions that involve thousands—sometimes hundreds of thousands—of their neighbors' dollars. No pressure, right? Having an outside management company handle things like collections and contracts helps a lot, but most good boards still want to know more about how they can run their communities more smoothly and efficiently. Fortunately, there are a number of resources that can help do just that, giving information, ideas and contacts that can in turn make their job easier and less stressful. Best of all, some of these resources are entirely free of charge.
Along with professional organizations (more on those in a minute), boards can draw information and support from publications and annual trade shows tailored to address their specific concerns. Foremost among these is The Chicagoland Cooperator and its annual Condo, HOA, Co-op & Apartment Expo. The Chicagoland Cooperator is a free monthly news magazine—available in print, and online at http://www.chicagocooperator.com —containing articles on everything from organizing board meetings to negotiating with landscaping vendors. The Expo, to be held this year on Tuesday, October 28th at the Navy Pier Convention Center from 10 am to 4:30 pm, is an event that brings together over 275 diverse exhibitors and features a full day of educational seminars, legal advice booths, and giveaways—all free of charge for board members, property managers, and the public. Just pre-register on the Expo website at http://chicagocondoexpo.com.
The Expo may be the largest event of its kind in the area, but it's not the only resource available; there are also non-profit professional organizations like the Illinois Chapter of the Community Associations Institute (CAI-IL), and the Institute of Real Estate Management (IREM), with its Chicago (#23) and Central Illinois (#78) Chapters. CAI, through its local chapters and national programming, offers webinars, an annual expo, newsletters, and courses for volunteer leaders and management professionals. IREM also presents seminars, courses and other learning and networking events for property management professionals throughout the year. The Association of Condominium, Townhouse and Homeowners Associations (ACTHA) also runs educational seminars throughout the year for boards and managers and has its own expo.
It takes a special kind of person to volunteer to help govern their condo or association community—and it's not always an easy job—but by knowing what's out there in terms of educational resources and networking opportunities, a tough job can be made a whole lot easier. For registration and more information on the fourth annual Chicagoland Condo, HOA, Co-op and Apartment Expo on October 28, go to http://chicagocondoexpo.com.
###