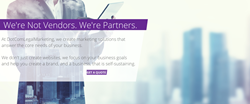 (PRWEB) October 13, 2014
DotComLegalMarketing, a lawyer marketing service, is pleased to announce the launch of it's 45 day SEO trial geared towards legal professionals. With a history of delivering results, DotComLegalMarketing is confident this new, 45 day SEO trial, for lawyers, will shake up the market.
As a part of this legal SEO trial, lawyers can contact DotComLegalMarketing, and get a risk free consultation, followed by a proposal for their campaign. If the proposal is accepted, DotComLegalMarketing signs up the professional as a client, with no money up front, or any payment information. DotComLegalMarketing works with the client for a period of 45 days, after which time the results and work done is reviewed.
If the client is satisfied with DotComLegalMarketing's work ethics and results, a retroactive payment is made for the past 30 days. Going forward, billing continues on a month to month basis, with no long term contracts. If the client is left unsatisfied, no payment is required, and the client can find another vendor - no strings attached.
By making such an irresistible offer, DotComLegalMarketing is taking all the risk, making it easier for legal professionals to sift through the thousands of marketing companies out there.
To learn more, visit: http://www.dotcomlegalmarketing.com/
About DotComLegalMarketing
DotComLegalMarketing, a lawyer marketing agency, is a legal marketing and advertising agency, geared towards providing customized solutions on behalf of legal professionals.