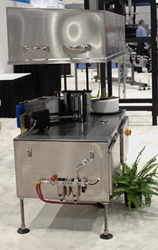 Fort Worth, TX (PRWEB) October 13, 2014
ID Technology - powered by Pro Mach, a leading provider of labeling, coding and marking solutions, has announced the Model 455 Label Printer Applicator, an addition to their extensive line of labeling equipment.
The new Model 455 is designed as a high speed system to print and apply labels in tough environments. Based on the well proven ID Technology modular concept, the Model 455 is built on a sealed stainless steel base and incorporates the company's high speed asynchronous vacuum belt wipe applicator.
The stainless steel cabinet is designed with slide out access to the electronic and pneumatic controls, allowing for easy access for setup and servicing. The operator interface is a touchscreen display.
The Model 455 is equipped with a stainless steel hood to completely seal the system for wash down routines. When the machine is in use, the hood is open – a touch of a lever closes it on its pneumatic cushion to seal the machine. When cleaning is completed, the same lever resets the hood back to the open position ready to run.
The vacuum belt applicator allows labeling to take place independently of the print engine speed, providing an increase in output up to 30-40% compared to conventional tamp applicators.
The Model 455 can apply a single label to the side of the product or can wrap the label around the corner using a secondary wipe station.
ID Technology builds a range of labeling solutions for harsh environments. ID Technology machines can be configured for hot, cold, dusty, wet or humid conditions – models are available for less demanding jobs as well.
The Model 455 will be on display at Pack Expo International in ID Technology's booth; N-5406.
About ID Technology
ID Technology designs, manufactures and integrates custom identification systems and is recognized as a leading single-source provider for labeling, coding and marking equipment, expertise, service and supplies. ID Technology is based in Fort Worth, Texas and operates 17 regional offices across the United States and Canada. For more information or to locate one of the ID Technology nationwide sales and service centers, call 888.438.3242 or visit our website at http://www.idtechnology.com.
ID Technology is powered by Pro Mach, a Cincinnati, Ohio based provider of integrated packaging and processing products and solutions for food, beverage, consumer goods, pharmaceutical, and other diverse companies. Through multiple brands, Pro Mach provides product packaging and processing equipment, PMMI certified training, installation, parts, and service in Bottling & Capping, Primary Packaging, Flexible Packaging, Material Handling, Identification & Tracking, and End of Line Packaging. For more information about Pro Mach visit http://www.ProMachInc.com.