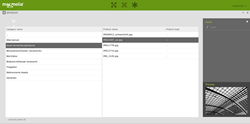 Access Cumulus DAM content without leaving the Magnolia CMS interface.
San Francisco, CA (PRWEB) October 14, 2014
Canto, a leading provider of Digital Asset Management (DAM) Software, and Magnolia International Ltd, the company behind the Java Open Source Magnolia CMS, step up their collaboration by combining their solutions with a jointly developed integration. With this integration digital assets such as photos, videos and infographics can now be more easily integrated into websites and apps in an efficient and straightforward manner. The solution also offers comprehensive features for addressing duplicates and versioning of assets across all marketing channels.
Cumulus is a proven DAM platform for enterprises and enables organizations to manage large digital media repositories with comprehensive, searchable metadata. All edits are documented in a version history, which automatically recognizes file dependencies. Licenses and access rights can also be controlled in the system. With Magnolia CMS' intuitive editing interface, complex websites can be managed simply. Its pervasive and standards based Java architecture enables the development of custom functionality as well as the integration of Magnolia into existing IT environments.
The integration between Cumulus and Magnolia allows users to access Cumulus content without ever leaving the Magnolia interface. This ensures a coherent digital presence, as the integration avoids duplicates and makes sure that users always work on the latest version. Additionally, site performance and user experience are continually optimized: Cumulus Image Factory automatically renders images in a web-optimized format and Cumulus Video Cloud is device aware and provides video in the exact quality that network bandwidth and device allow for.
"Digital marketing and the management of visual content on the web have become highly complex - and with that complexity, expectations on organizations have increased. Everybody needs their own, customized combination of systems in order to stay agile in their field," says Lucas Schnabel, Business Development Manager at Canto. "The end user of digital content is then presented with an optimized customer experience."
Jan Haderka, Chief Integration Officer at Magnolia, further explains the benefits of this best-of-breed strategy: "We believe that a seamlessly integrated solution should encompass several best-of-breed systems. That way, enterprises have the tools they need to communicate in a targeted and efficient way in today's fast-paced digital world. We call this approach 'Open Suite' - organizations can build their own suite with Magnolia, instead of purchasing an expensive suite of tools they don't need."
More information on the integration between Canto and Magnolia can be found at http://www.magnolia-cms.com/canto and by attending the joint webinar on Wednesday, October 29: http://www.magnolia-cms.com/company/events/magnolia-cms-and-canto.html.
About Magnolia
Magnolia is an open Java CMS that delivers smartphone simplicity on an enterprise-scale. Magnolia CMS allows organizations to orchestrate online services, sales and marketing across all digital channels, maximizing the impact of every touchpoint. Magnolia CMS enterprise customers include Abbott Diabetes Care, Airbus Group, Al Arabiya, Allianz, Atlassian, Generali Group, ING Bank, Foxtel, Michelin, Migros, Pirelli, Sony, TeliaSonera and US Navy. Magnolia is used in more than 100 countries across the world by governments and leading FORTUNE 500 enterprises. Magnolia International Ltd. is the creator of both the Open Source Community Edition and Enterprise Licensed Editions of the Magnolia CMS. Find out more about Magnolia at: http://www.magnolia-cms.com
Mehr Informationen unter http://www.magnolia-cms.com
About Canto and Cumulus
Canto is driven by delivering digital content more intelligently. This has made the company a global leader in the digital asset management community. By always putting the focus on users, Canto delivers scalable software and services that match customer demands. The Cumulus solution fits directly into customers' platforms, giving them greater ability to manage and deliver content across the full range of systems and devices, protecting their brands' assets, and ensuring efficiency.
Canto serves a worldwide customer base of more than 2.500 active customers from a wide spectrum of market segments in close cooperation with its global partner network. Canto was founded in 1990 and is based in San Francisco (USA), Berlin and Linden (Germany). More information can be found at http://www.canto.com.
Press contact Canto:
Leslie Weller
T +1 415-495-6545
press(at)canto(dot)com
Press contact Magnolia:
Ethan Parker
+1 (512) 485-3016
founder(at)treblepr(dot)com