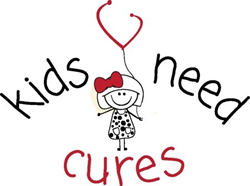 Los Angeles, California (PRWEB) October 14, 2014
Kids Need Cures, a children's charity founded to help find cures to a rare disorder, has announced that its 3rd Annual Gala Fundraiser will be held at the historic California Yacht Club in Marina del Rey, California this Saturday night, October 18, beginning at 6:00PM Pacific Time. The charity was founded in 2011 by Los Angeles couple Jeannine and Jerry Kowal shortly after their daughter Caitlin was diagnosed with Prader Willi Syndrome, a rare genetic disorder that creates intense feelings of starvation and prevents those afflicted from leading independent lives.
Kids Need Cures seeks to fund leading researchers and scientists on new drug development and clinical trials aimed at alleviating the symptoms of and, ultimately, finding a cure for the overwhelming hunger caused by, Prader Willi Syndrome. This research may ultimately help the lives of millions of people.
"Attempting to find a cure for Caitlin's condition was what prompted us to start Kids Need Cures in the first place, but in the three years we've been operating we've realized that the research we're funding to solve Prader Willi Syndrome could be used to help anyone suffering from the ailments caused by obesity," said Jeannine Kowal, Founder and President of Kids Need Cures. "For example, one third of the children in this country are obese which has led to a sharp increase in childhood diabetes and hypertension. If we can find a solution for these kids we will create a healthier generation of people, so we are excited at the possibility that our work will help so many children," Ms. Kowal said.
Kids Need Cures has raised over $100,000 to date to fund research to understand what drives hunger and how can we manage it, but "that's just the start," said Jerry Kowal, Co-Founder and Director of Kids Need Cures. "Rare disorders like Prader Willi Syndrome are chronically underfunded because they have little awareness, yet researchers are increasingly focused on solving these complex rare disorders because they believe these rare conditions hold the key to curing broader diseases children face, like diabetes and obesity," said Mr. Kowal. "Events like our Annual Gala go a long way toward building awareness of, and funding research for, these rare disorders."
Tickets for Kids Need Cures' 3rd Annual Gala can be purchased at http://www.kidsneedcures.org/#events. For more information on Kids Need Cures and Jeannine and Jerry Kowal's daughter Caitlin's story, please visit http://www.kidsneedcures.org and view https://www.youtube.com/watch?v=7ppg_dxglp0&feature=youtu.be.