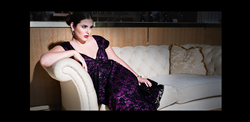 We envisioned a head-turning femme fatale who captures all the attention as she enters the room and has all eyes on her throughout the affair at various holiday fetes. A beautiful creature who channels Old Hollywood glamour as a star in her own right
San Francisco, CA (PRWEB) October 14, 2014
Luxe Elegance, the new holiday collection by IGIGI, http://www.igigi.com, is a glamorous ceremony of Old Hollywood inspired designs with a modern and sophisticated flair. In classic IGIGI tradition, silhouettes that accentuate and flatter curves laden with all-over lace treatments, peekaboo slits, and lavish embellishments dominate the collection that will sure turn heads in the right direction. Plus size model Alessandra Lorido-Garcia graces the campaign imagery shot by Marc de Paola on location at the historic Champagne Cellars at Buena Vista Winery in Sonoma, CA. Price range is $78 - $350.
"We envisioned a head-turning femme fatale who captures all the attention as she enters the room and has all eyes on her throughout the affair at various holiday fetes. A beautiful creature who channels Old Hollywood glamour is a star in her own right," says the IGIGI design team.
Designed and made in the San Francisco Bay Area, CA, Luxe Elegance is a beautiful concoction of lavish and ornamented pieces perfect for the holidays. The new Angelica Sequin Gown stands out with its dramatic, eye-catching drapery while the trend-forward keyhole neckline and the halter neck on the Rosario Gown makes it a serious contender for a statement maker. Customer favorite Francesca Dress makes a return in an all over dazzling sequin treatment. Luxe Elegance also introduces cocktail separates including the Kyle Lace Top and the Mira Maxi Skirt, which are designed with a mix and match concept in mind to allow for multiple ensembles throughout the season.
Headquartered in San Francisco, CA, IGIGI was founded in 2000 with a mission to transform the world's view of beauty by providing full-figured women with fashion-forward, quality, and well-fitting clothes that would help express their beauty. Collections are designed in-house and produced locally through independent San Francisco Bay Area contractors. IGIGI has been featured in major fashion and life style magazines including In Style, Marie Claire, The Oprah Magazine, People StyleWatch, Ladies' Home Journal, Glamour, and Essence, and it has been a favorite among curvy celebrities like Kim Coles, KayCee Stroh, Jill Scott, Kelly Price, Ashley Fink, Martha Wash, and Gabourey Sidibe. IGIGI collections are available online at http://www.igigi.com and select boutiques worldwide.