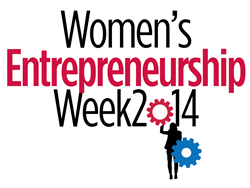 Montclair, NJ (PRWEB) October 13, 2014
To celebrate Women Entrepreneurship Week 2014, the Feliciano Center for Entrepreneurship at the Montclair State University School of Business will host a series of free events on October 14, 15 and 16. The programs feature more than 30 leading women business leaders as speakers at panel discussions and workshops, plus networking opportunities for attendees. Women looking to grow or start their own businesses or take on a more entrepreneurial role within larger companies, plus aspiring student entrepreneurs, will receive high-energy inspiration, practical tips and advice.
"We are excited and proud to be part of Women Entrepreneurship Week 2014," says Sharon Waters, program manager for the Feliciano Center for Entrepreneurship. "The Center is committed to nurturing women entrepreneurs through program development and mentorship. This free series of events supports this mission."
Women Entrepreneurship Week in New Jersey kicks off on Tuesday, October 14 from 6:00 to 8:30 p.m. with an evening devoted to women, power and leadership. The keynote address will be delivered by Gloria Feldt, renowned speaker, author, leadership expert and co-founder of Take The Lead, an organization devoted to increasing the number of women in leadership positions. Feldt will also moderate a panel of successful women entrepreneurs who are Montclair State alumni, including Tracy Doyle '88, president and CEO, Phoenix Marketing Solutions; Kathy Duva '75, CEO, Main Events; Elena Kilpatrick '87, VP and general manager of Pennsylvania Operations, Frontier Communications; and Wamwari Waichungo '90, VP Global Scientific and Regulatory Affairs, The Coca-Cola Company.
Wednesday, October 15 is a daylong event featuring high-profile speakers, dynamic workshops and networking opportunities designed to sharpen the mindset of entrepreneurial women.
Lieutenant Governor of New Jersey Kim Guadagno will speak to attendees at 5:15 p.m. Other confirmed speakers include Tracye McDaniel of Choose NJ, Kathleen Coviello of NJ Economic Development Authority, Michelle Lee of Wells Fargo, networking guru Sally Glick, Essence magazine's Mikki Taylor, Catalyst's Ilene H. Lang, NASDAQ OMX's Ellyn McColgan '75, Golden Seeds' Joan Zief, venture capitalist and former Time Inc. executive Fran Hauser, plus executives at companies ranging from startups to giants like Prudential and Horizon BCBSNJ.
The programs conclude on Thursday, October 16 with "Big Dreams in STEM," an evening panel discussion about the dearth of women in science, technology, engineering and math – or STEM – fields and an exploration of innovative ways to affect change in this area.
All three events will be held at the University Hall Conference Center at Montclair State University. Registration is open now for these free events. For more information and to register, visit: WomenEntrepreneurshipWeek.com.
Corporate sponsors of Women Entrepreneurship Week include Horizon Blue Cross Blue Shield of New Jersey; Withum Smith & Brown, PC; Eisner Amper; and Children's Specialized Hospital. NJBIZ is a media sponsor. In addition to the events celebrating Women Entrepreneurship Week 2014 at Montclair State, events are scheduled at Fairleigh Dickinson University, NJIT and St. Peter's University.
# # #
Building on a distinguished 106-year history, Montclair State University is proud to be a leading institution of higher education in New Jersey. The University's six colleges and schools serve over 20,000 undergraduate and graduate students in more than 300 doctoral, master's, and baccalaureate level programs. Situated on a beautiful, 250-acre suburban campus just 14 miles from New York City, Montclair State delivers the instructional and research resources of a large public university in a supportive, sophisticated and diverse academic environment. montclair.edu