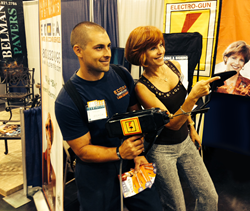 ...we were green before green was more than just a color.
Mission Hills, CA (PRWEB) October 15, 2014
There are many choices in Los Angeles for just about anything so it's really exciting when a "best" at anything is determined. In fact, Ecola Termite and Pest Control understands this and that's why the owner, Sue Fries a.k.a. "The Termite Lady", always tells her customers, "Let us be your 1st choice or your 2nd opinion". Well, Ecola is proud to announce that there's no longer a second opinion needed because the voters have spoken and Ecola Termite and Pest Control has been voted the best termite and pest control company in Southern California! After weeks of voting, the readership and subscribers of the Los Angeles Daily News numbering in the hundreds of thousands voted Ecola the "Best".
Sue Fries and Ecola are truly honored and thankful that their dedication to customer service and quality work has been appreciated by the residents of Southern California. In business for over 33 years, Ecola Termite and Pest Control is the leader in alternative methods. Ecola's methods are perfect for individuals, families and pets that may have chemical sensitivities or suffer from the effects of allergies or asthma. Ecola will listen to your needs and design the best plan of solutions for your individual needs. In fact, Sue Fries chronicles in her new book "Learning to Breathe" the impact of her own personal struggle to care for her own son who suffered from asthma as a child. Sue Fries arose from that struggle victorious and determined to make solutions available for anyone seeking non-chemical methods for pest control.
How does it feel being voted the "Best" in a confusing and crowded field of pest control providers. Sue Fries says it best, "This is quite an honor and we have fought an uphill battle with a good amount of competition. Our company stands for integrity and we were green before green was more than just a color. Our main concern is doing what's right and providing individual solutions for each of our individual homeowner's needs."
ECOLA SERVICES, INC. is licensed by the Structural Pest Control Board of California, a division of the Department of Consumer Affairs, by ETEX LTD., the manufacturer of the Electro-Gun equipment and by TPE for the ECOLA Heat ™ treatment process. ECOLA SERVICES, INC. is fully bonded and insured.
Ecola Termite and Pest Control can be reached at (800)332-BUGS or ecolatermite.com. For more information regarding Susan Fries or the Sue Fries Show please visit suefries.com.