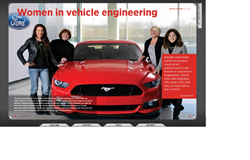 But collectively women number less than one in five engineers within the vehicle industry. - Lindsay Brooke, Automotive Engineering Senior Editor, SAE International
WARRENDALE, Pa. (PRWEB) October 14, 2014
Although women engineers have made significant progress in recent years cracking the auto industry's male-dominated technology and management domains—even rising to CEO at General Motors—as a group they continue to face lingering gender hurdles and flat career growth, according to a new 17-page special report—"Women in Vehicle Engineering" – in SAE International's Automotive Engineering magazine.
"Today more women are serving as vehicle chief engineers, technology directors, and engineering managers than ever before, with the Detroit-3 automakers significantly outpacing their European and Asian competitors in identifying, hiring, and promoting female technical talent," observed Lindsay Brooke, the article's author and Automotive Engineering's senior editor.
"But collectively women number less than one in five engineers within the vehicle industry," he noted, "at a time when the demand for fresh product development, technical, and research talent is acute. Why is this?"
To find answers, Brooke interviewed more than two dozen engineers, human-resource experts, and workforce researchers, pored through an equal number of recent professional studies, and led a high-level panel discussion related to the subject. His report highlights societal, cultural, and institutional factors that continue to impede female progress—many of which are being tackled by the industry's leading OEMs, suppliers, and professional and academic organizations.
"Women in Vehicle Engineering" is available to media as a PDF file. Author Lindsay Brooke is available to discuss the article. Contact SAE International Corporate Communications Manager Shawn Andreassi at shawna(at)sae(dot)org or call 1-724-772-8522.
SAE International is a global association committed to being the ultimate knowledge source for the engineering profession. By uniting more than 148,000 engineers and technical experts, we drive knowledge and expertise across a broad spectrum of industries. We act on two priorities: encouraging a lifetime of learning for mobility engineering professionals and setting the standards for industry engineering. We strive for a better world through the work of our philanthropic SAE Foundation, including programs like A World in Motion® and the Collegiate Design Series™.