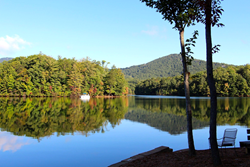 Fine Art Event Open to the Public
Atlanta, Georgia (PRWEB) October 14, 2014
Big Canoe Realty and The Big Canoe Building Group are sponsoring a wonderful cultural event open to the public in their award winning northern Georgia gated mountain community from Thursday, October 23 through Sunday, November 2, 10:00 a.m. – 4:00 p.m. This North Georgia art show will take place in a beautiful custom home in the new Bluffs at Ridgeview neighborhood.
The Fine Art Event features a significant showing of works by 14 southeastern artists in various mediums including painting, sculpture, photography, pottery, blown glass and glass sculpture. Admission is free and there will be many exquisite works for sale including art, furniture, and quilts. Come view the essential works of:
CAL BREED – a glassmaker for over 20 years with a distinctive style and nature as his inspiration. Breed designs and creates functional glass and sculptures.
RAE BREED - a self-taught potter who began her artistic career on Andros Island in the Bahamas in the 1980s. Her stoneware and raku clay works feature unique glazes.
DUTCH - originally a wood sculptor, he worked in various mediums before settling on glass, using the pate' de verre technique, learning hot glass sand casting, and finally blown glass.
JOHN GECI - a glassblower based near the Penland School of Crafts in Western North Carolina. His vibrant and distinctive line of glassware is J. Geci Glass.
JONAS GERARD - a painter, primarily in acrylics and mixed media. Gerard's work is prolific and tactile, as he creates abstracts, other genres, and works with paint, silk, sculpture and more.
PAM HAGAN - a painter using watercolor, acrylics and mixed media, her subjects range from delicate floral studies to sweeping Southern landscapes.
JANET JACOBSON - a contemporary landscape painter, Jacobson's work reflects serenity, her love of nature, and her life in the mountains of North Carolina.
DEHANNA JONES - a glassblower who describes herself as a Glass Minimalist to describe her process. Jones' designs are anything but minimalist, and true works of art.
CHRIS MOSEY - formally trained as a potter, Mosey creates fabulous glass objects that beg to be touched.
MULTITUDES - a Blue Ridge gallery representing over 75 artists, specializing in hand blown glass, as well as regional artists in jewelry, ceramic pottery, iron work, photography, wood working, stain glass and oil/acrylic/watercolor painting.
NNAMDI OKONKWO - a sculptor, whose fluid, simple lines and subjects often depicting the female form in action, communicates life, motion, and emotion with his work.
LORA RUST - a potter and pottery teacher who loves working with clay, Rust creates heirloom quality porcelain table and serving ware at her Atlanta area studio.
CAROL SKAPINETZ - originally an art teacher in New Jersey, Skapinetz is now a watercolorist who concentrates on floral landscapes using non-traditional techniques that give her watercolors a photographic quality.
JOHN SMITH - a landscape photographer inspired by the Great Smoky Mountains and the four distinctive seasons in the mountains of Western North Carolina.
ERIC STRAUSS - a sculptor who uses found, forged and fabricated steel to create scenes from nature and the elements.
BIG CANOE MODEL HOME TOUR:
The North Georgia art show, held during peak leaf viewing season in the Big Canoe gated mountain community, takes place in one of The Big Canoe Building Group's newest model homes. The breathtaking model and fall scenery make a fitting backdrop for the art show, but there are other works of art to see as well. Three other custom Big Canoe model homes in The Bluffs are available for viewing, as well as a furnished model in the Twin Creeks neighborhood.
Big Canoe covers 8,000 acres of glorious north Georgia mountain scape comprising many different neighborhoods with a lifestyle for families of all ages and sizes. The gated mountain community in the foothills of the North Georgia Appalachians is only one hour north of Atlanta. Big Canoe offers the perfect escape for a weekend home or seasonal residence, however approximately 60 percent of homeowners are year-round residents, many of whom commute to Atlanta for work, happy to return to fresh mountain air at the end of the day.
With lakes, streams, and hiking & nature trails throughout, Big Canoe is a nature lover's dream. Outdoor sports are a huge draw, and the community has a well-developed set of amenities including 27 holes of championship golf with incredible mountain views, indoor and outdoor tennis courts, swimming pools, and a 17,000 square foot fitness center. Dozens of clubs, sports leagues, events, and social activities plus the serenity of the North Georgia Mountains make the established, gated mountain community of Big Canoe a home worth coming home to.
The Bluffs at Ridgeview is Big Canoe's newest neighborhood and offers heavily wooded home sites ranging from one and one-half to two acres of spectacular mountain views at an elevation of 2,200 feet. Lots are currently priced starting from the low $200s and there is no time limit imposed for building your dream home. Over 30 authorized Big Canoe builders with dozens of appealing and livable floor plans are ready to build your north Georgia mountain dream home in a variety of styles including historic Adirondack and Appalachian, Craftsman, and Western Log and Timber.
Twin Creeks is an intimate, 14-home Southern Living cottage neighborhood featuring a Pavilion and hiking trail that connect to Big Canoe's Meditation Park trail system. This new neighborhood is conveniently located near the community's main gate and offers a choice of mountain, creek, or golf views – each as lovely as the others. The cottages, with four different floor plans, start in the mid $300s.
This is your perfect get-away opportunity to take in an exceptional art event and tour the newest Big Canoe model homes during one of the most beautiful times of the year in the north Georgia mountains.
For directions and more information about this North Georgia art show and the Big Canoe community, call Big Canoe Realty at 770-893-2733 or 1-866-244-2266.
About Real Estate Scorecard:
Real Estate Scorecard writes unbiased real estate reviews providing in-depth information about popular gated communities in Florida, Georgia, North Carolina, South Carolina and Tennessee, all in an effort to help people discover where to retire in the Southeast.
Website: http://realestatescorecard.com