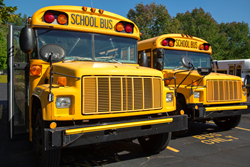 Long Beach, California (PRWEB) October 16, 2014
Homeowners want the best value for their dollar. The higher the land value, the better the return on investment for homeowners. A good school district delivers that value, says Chris Apodaca, the Director of Business Development for Broadview Mortgage Long Beach.
For example, newlyweds excited to start their family in a new home want to be in a school district that will provide an excellent education for their children. In fact, the California Association of REALTORS® reports that over 52% of home buyers would rather go over their purchase budget to get a house near their school of choice, adds Apodaca.
The common thread in all aspects of real estate is value. Value is the amount of money someone is willing to pay for something. The higher the demand, the higher the value, says Apodaca.
For this reason, real estate agents write "Prestigious School District" or "Down the street from Whitney High, #1 High School in California" in their marketing. Home buyers will pay more for good schools. Real estate agents help drive the demand for quality public education. The National Association of Realtors, the trade association for real estate agents in the United States, writes the following in their guide for their members:
Of all the local neighborhood amenities that can influence a buyer's decision to purchase a home, proximity to good quality schools is one of the most influential. ("Field Guide to Schools and the Home Buying Decision", National Association of Realtors, August, 2014)
In our state, the California Association of Realtors released an info-graphic that shows 3 out of 5 people would forego "a pool, parks, a bonus room, and access to shops" for the school of their choice. Out of those surveyed, a total of 52% said they would purchase above their budget to be near a school of their choice. I know I already said that, but it's something worth mentioning twice! Over 50% of home buyers think good schools are worth more!
Sadly, school districts are struggling to deliver what is being sought. Ever increasing education standards are being coupled with severe budget cuts. Putting this type of stress on our schools will inevitably lead to a mediocre education for students, says Apodaca.
Chris Apodaca is the Director of Business Development for Broadview Mortgage Long Beach and sits on the ABC Unified Education Foundation's board of directors. For more information about the ABC Education Foundation contact Chris at chris.apodaca@broadviewmortgage.com or visit: http://www.broadviewmortgagelongbeach.com/why-realtors-should-support-public-schools/