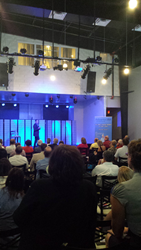 This is by far the best event put on by Advanta IRA that we've been to! We're really glad we got the chance to attend!
Fort Myers, FL (PRWEB) October 14, 2014
Earlier this month AdvantaIRA Trust held their annual Real Estate Club Expo at Ter-Tinis in Fort Myers. The event had a great turnout with more than 120 people in attendance, ten local sponsors, as well as a raffle and 50/50 drawing that raised 100 dollars for the local Special Equestrians non-profit organization.
The AdvantaIRA Real Estate Club Expo 2014 is the most popular and largest event that AdvantaIRA Trust hosts every year. The event, which is geared towards the real estate industry, consisted of three fantastic speakers and lots of networking. Its focus is primarily on current and developing market trends and updates. The event was widely attended by investors, realtors, and individuals interested in real estate investment knowledge as well local businesses that are in the real estate industry.
The event started off with networking, drinks, raffles, and hors d'oeuvres such as filet bruschetta, ahi tuna, and flatbreads. Then the presentations began with Advanta IRA thanking all of their current clients in the audience by giving them an Advanta IRA t-shirt. After the recognition a couple of Advanta IRA clients shared their success stories and the event host announced the clients of the year. Next the Director of IRA Operations for Advanta IRA came up and went over the different investment options allowed in a self-directed IRA and the ladies of the local Fort Myers office held up signs listing each asset.
What really made the evening were the speakers at the expo. Dennis Gianetti from West Palm Beach was the first to speak. He spoke about turning dreams into realties and how Americans need to stop complaining about what's wrong with their lives and start focusing on how to make a change for the best. Scott DiGregorio was second to speak. He spoke about "why not me" and how everyone is capable of success if they possess the drive to get there. Rich Greer was the final speaker of the night and he ended the presentations by discussing how everyone needs to be prepared for disasters because they can happen at any moment. All three speakers were very well spoken and informative. Guests really enjoyed the topics. "This is by far the best event put on by Advanta IRA that we've been to! We're really glad we got the chance to attend!" said a current Advanta IRA client.
When the event ended guests and sponsors left happy. The raffle and 50/50 drawing raised 100 dollars for the Special Equestrians, which was the local charity that attendees voted that the money go to. This event will take place again in 2015.
About AdvantaIRA Trust
AdvantaIRA Trust is a self-directed IRA administrator that provides tax-deferred and tax-free investment opportunities, superior customer service, and educational tools to assist investors in realizing the maximum benefits possible within IRAs. AdvantaIRA makes it easy to use self-directed retirement plans to invest in assets that the individual investor knows, understands, and can control. For more information on how to self-direct call us at 239-333-1032 or visit www(dot)AdvantaIRA(dot)com.