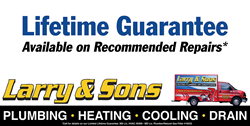 Today, Larry & Sons is regularly recognized by the Hagerstown and tri-state community as the authority for premium home services
HAGERSTOWN, MD. (PRWEB) October 14, 2014
Larry & Sons, Inc., a family-owned plumbing, heating, cooling, and drain company serving the tri-state region of Maryland, Pennsylvania and West Virginia since 1960, was recently awarded 1st Place Plumbing Service by Hagerstown Magazine. Decided upon by the readers themselves, the magazine's annual HotList chronicles the best area restaurants, food, drink, entertainment, retail, businesses, and professional scenes. The plumbing accolade recognizes full service home repair companies and 2014 marks a repeat victory for Larry & Sons who earned the same award in 2013.
"We at Larry & Sons are very proud be on Hagerstown Magazine's HotList for a second year in a row for the services we provide," said Eric Corbett, Owner at Larry & Sons, Inc. "Given that the HotList is voted on by the customers we serve, this award truly reflects our dedication to providing outstanding service and repair."
Founded in 1960, Larry & Sons has been a family owned operation since the beginning. Started by Larry T. and John C. Corbett and originally named Corbett Brothers Plumbing and Heating, the company as it is known today took shape in the 1980s when Larry became the sole owner. Despite the name change to Larry & Sons, the service remained, with the same absolute dedication to providing the tri-state area with quality residential and commercial plumbing, heating, cooling, and drain services.
Today, Larry & Sons is regularly recognized by the Hagerstown and tri-state community as the authority for premium home services. From multiple HotList awards, the multi-service company has impressed its customers with certified technicians who offer installation, repair and maintenance services of heating, air conditioning, geothermal, drainage, and indoor air quality systems. Capable of even total bathroom or kitchen remodeling as well as comprehensive maintenance, no job is too big or too small for Larry & Sons.
First published in 2004, Hagerstown Magazine is dedicated to providing the local community with a relevant, fresh perspective on what it's like to live and do business in the Washington County & Beyond. Each year, the publication issues its HotList, a ranking of area establishments voted upon by the community itself. Close to 30,000 votes created the complete HotList 2014.
About Larry & Sons Inc.
Larry & Sons, Inc. is a family-owned plumbing, heating, cooling, and drain company based in Hagerstown, Maryland. Since 1960, the company has been operating in the tri-state region of Maryland, Pennsylvania, and West Virginia. Larry & Sons offer water heater repair and installation, sewer and drain services, water treatment systems, comprehensive maintenance, and one day bath solutions. To learn more about the company, visit http://www.larryandsons.com or call 301-733-5428.
###