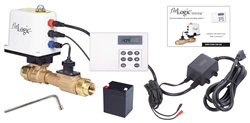 Raleigh, NC (PRWEB) October 15, 2014
Homeowners, business owners, builders, property managers, plumbers, home and commercial building automation integrators, insurance providers, condo associations and all others in search of a robust automatic water monitoring and shutoff system that's ideal for indoor, outdoor and now below grade installations, can now eliminate the risk of an uncontrolled water leak with FloLogic Inc.'s new FloLogic System 3.5.
"Water damage due to plumbing failures and freezing pipes is the second most frequently filed insurance claim in the United States today, costing consumers, business owners and the insurance industry billions of dollars each year," commented FloLogic's Chuck De Smet. "Plus, catastrophic property damage is the most preventable claim in the insurance industry today, and that's why the FloLogic System 3.5 isn't just sensible, but essential. Whether the leak is major or minor, the FloLogic System constantly protects property from costly water damage, while eliminating high water bills due to leaks. That's why the FloLogic System is known as `the circuit breaker for every plumbing system™'"
The FloLogic System 3.5 features an Apollo® cast bronze ball valve is designed for outdoor installations particularly throughout the Sunbelt where concrete slab construction is dominant. The system has also been independently certified to IP68, which means that it is 100% dust and waterproof and can be installed outdoors and even below grade in a meter box, which protects an entire from the meter throughout the structure and even beyond into the irrigation system.
"This is a very valuable feature that we have added to our award winning design, as other products in the market cannot be located outdoors due to limitations in their communication reach, waterproof characteristics and other technology and installation constraints," added De Smet. "We have technology that has been overlooked in the building product space since the inception of the water meter, and we believe that it's simply not feasible to allow water to run into a structure unabated!"
Individuals and business that want to protect their property -- and its valuable contents -- from potentially catastrophic damage caused by an uncontrolled water leak, can learn more about the new FloLogic System 3.5 by visiting http://www.flologic.com, by emailing info(at)flologic(dot)com or phoning 877-FLO-LOGIC.
About FloLogic Inc.
FloLogic is a technology company whose major objective is to use its patented and trademarked technology to enable homeowners and business owners to reduce or eliminate the economic and personal losses associated with plumbing failures and leaks e.g. the failure of washing machine hoses, water heaters, water pipes and associated fittings. While doing so, the Company is impacting the 14% of water used in homes each year that is attributed to plumbing leaks. We save water! The FloLogic System is succinctly known as "the circuit breaker for every plumbing system" ™ providing Intelligent Leak Detection™