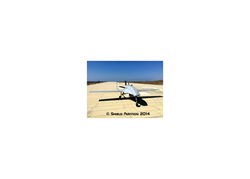 San Diego, California (PRWEB) October 14, 2014
SHIELD Aviation, Inc. announced today the granting of a Category 3 Unmanned Aerial System (UAS) Interim Flight Clearance (IFC) for the ARES Block C UAS by Naval Air System Command (NAVAIR) Patuxent River MD AIR – 4.0P.
SHIELD Aviation Engineering and Operations Divisions along with NAVAIR engineers worked tirelessly to complete an engineering review and risk assessment to ensure safety of flight and to reduce risk to personnel, property and/or environment. Cooperation was key to its success. The IFC for the ARES Block C UAS is an extremely important step in supporting Navy public aircraft operations.
"The granting of the IFC for the ARES UAS is extremely important milestone as it recognizes its airworthiness and safety of flight for ARES UAS. It also ensures SHIELD and ARES UAS operates within Naval Instructions 13034.1D CH2 requiring all UAS operated by Department of Navy (DON) to have an Interim Flight Clearance or Flight Clearance. Shield Aviation is extremely proud of the ARES UAS perfect safety record. It also ensures the operation of ARES UAS by Shield Aviation in conjunction with the Department of the Navy, the operation conforms to all Naval Regulations" Myles Newlove Chairman and CEO of SHIELD Aviation Inc.
SHIELD is committed to continuing to serve the men and women in the armed services, to ensure our Unmanned Systems maintain their cutting technological edge, certification but most importantly operational relevancy. The Interim Flight Clearance by NAVAIR 4.0P is just another step ensuring our commitment to the armed services.
About SHIELD Aviation, Inc.
SHIELD Aviation, is a manufacturer and ISR service provider of tactical and medium unmanned aerial systems. SHIELD was founded in 2006 by former Special Forces, military personnel and engineers who specializes in unmanned technology and related services. SHIELD provides the complete solution to the most demanding customers. SHIELD Aviation has formed the reputation of delivering the solutions on time, on budget and on impossible schedules.