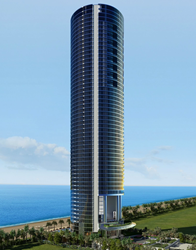 More and more designers, architects and artists are coming to town to set a higher standard in architecture for the new real estate projects to come.
Miami, Florida (PRWEB) October 15, 2014
The fact that Miami is attracting the elite of international architects illustrates the inherent definition of cosmopolitan Miami as a melting pot of identities. This absorption of cultures and influences up to the top of these constructions is the signature style of Miami and the very reason of its appeal. Gold nuggets of architecture multiply to symbolize that Miami has become a magnet for Pritzker Prize winners, the ultimate gratification for architects. Now both interior and exterior architects converge to Miami for tourists, residents and passers-by's own enjoyment.
Project 1111 on Lincoln seems to have started the trend back in the recession years. It responded to a need for more functional urban spaces. Working with well-known architects was an obvious choice from the city to get out of the chaos in the safest way. This is when the City of Miami called Herzog & de Meuron, known for the creation of Tate Modern in London, to turn a hybrid retail complex into a house of cards on the West end of Lincoln Road.
Then followed Sage Beach, Echo Brickell and Echo Aventura, region-inspired designs and constructions of Carlos Ott, originally known for the Bastille Opera House in Paris. These examples give customers plenty of options to buy signature condos in Miami! To quote only a few, after creating a futuristic garage at Collins Park on Miami Beach and 1000 Museum in downtown Miami, Iraqi architect Zaha Hadid is back in Miami. She is indeed working on the Paramount Miami for the Miami Worldcenter. Very soon the official announcement will be made.
Such star projects have resulted in an influx of some more developments from the international who's who of architecture. They are known as "starchitects" because their works of art have drawn global attention thanks to their unwavering quest for innovation. Miami has become the nest for partnerships and collaboration. This year, developers of Miami have been seeking the involvement of luxury brands and high-end designers to bring chic within real estate. Such wind of cooperation heralds the real estate market's revival. Developers are launching breathtaking parties to announce the opening of sales and condos in these buildings are selling like hotcakes before they are even completed.
To that extent, more and more designers, architects and artists are coming to town to set a higher standard in architecture for the new real estate projects to come. Partnerships go from auto companies such as Porsche and Maserati, to furniture and fashion designers. For example, The Mansions at Acqualina come with a $100,000 dressing room from Ornare. Even more impressive, the Porsche Design Tower contains 3 car elevators to bring your car up to a sky garage inside your unit itself!
Moreover, every district is taking a stance. With the help of names such as Tommy Hilfiger, the Design District puts the stress on fashion and architecture for a perfect blend in the soul of the district. Besides, Miami Beach is witnessing the development of Faena District as the new Wonderland. It will indeed host an arts center, a hotel, an extra-luxury condominium, a bazaar and a cabaret for a very movie-like atmosphere.
Looking at renderings of all preconstruction projects gives hints about how Miami is now envisioned by these designers of the future. Pictures shout avant-garde curves and lines. Funny enough, they reveal a whole new utopia where buildings angles take the shape of waves surrounded by virgin forest-looking gardens where families holding hands stroll about. To that extent, starchitects and interior designers are changing the very core and spirit of the city. Through aesthetics and design, they claim quality, future orientation and specific values in the service of Miami's resurgence.
Such enthusiasm tends to inhibit one major question though: is that urban futuristic frenzy compatible with the very heart of Miami, which soul depends on its cultural and aesthetic diversity? The artistic community and real estate industry support these effervescent changes, as a symbol of the Magic City's evolution and optimization.
As a conclusion, it looks as if Miami developers are ready to comply with the fantasies of their most imaginative potential buyers but also residents and passers-by who come close enough to set eyes on these constructions. Time has come to buy in Miami and become part of the current Miamian architectural maze.