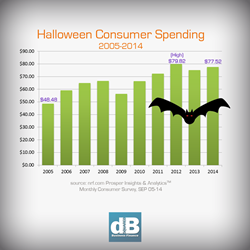 With US consumers planning to spend more on costumes for adults than for children, they are sending a clear message that Halloween is not just for kids any more. - Elizabeth Kraus
Seattle, Washington (PRWEB) October 13, 2014
Long perceived as a holiday mainly for preschool and elementary school-aged children, U.S. consumers have made it clear that they are not ceding the celebrating of Halloween to kids. Elizabeth Kraus, marketing manager of business finance company DB Squared, explains why Halloween may be so popular with grown up consumers and which retail categories stand to win with the Halloween-enthusiasts among us.
Earlier this month, the National Retail Federation (NRF) released the Prosper Insights monthly consumer survey conducted in September 2014. Data analysis reveals that overall consumer spending on Halloween is expected to top $78 per person, which represents a 62% increase over ten years.
Second now only to Christmas in spending overall, Halloween is firmly in first place when it comes to growth rate of consumer spending. In fact, while nearly half of all consumers said that the economy would impact their spending decisions during the most recent holiday season (November-December 2013), only 1 in 5 of those planning to celebrate Halloween said that the economy would have an impact on their spending.
Experts cite many reasons at the heart of US adult consumers continued love for Halloween, from the way this holiday reminds us of how much we loved Halloween as a child to a simple desire to socialize and indulge without guilt for one day out of the year. Whatever lies at the heart of the matter for those planning to celebrate Halloween this year, one thing is clear: Trick or treating is not just for kids anymore.
Specifically, the study determined that of the 162 million people who plan to celebrate Halloween in some way this year, $2.8 billion will be spent on costumes. While that may conjure up mental images of children dressed in pint-size princess, monster, cartoon, hero or DIY costumes, it should be noted that only $1.1 billion is earmarked for kids costumes. With consumers expected to spend $230 million to dress up their pets, that still leaves the majority of consumers planned costume budgets allocated to costumes for adults.
Halloween costumes top the list as a category when it comes to the amount of money consumers plan to spend on holiday-related purchases this year, but it is not the fastest-growing category. That honor falls to the category of Halloween decorations. Of the consumers planning to celebrate this year, nearly half plan to decorate their homes or yards and plan to spend about $31 each. That translates into a 48% increase per consumer over the course of the past ten years, and makes Halloween decorations the category with the highest rate of growth.
Small businesses that want to capitalize on the consumer's love of Halloween still have time; one quarter of the consumers who plan to celebrate Halloween will not even start shopping until the week immediately preceding the holiday. In more good news for brick-and-mortar retailers, consumers often prefer to buy Halloween costumes, decorations and other items in person, since they may need to try something on or want to be able to see it in person before buying. Small business marketing expert Elizabeth Kraus offers up two pieces of advice for small business retailers.
Carve Out a Unique Niche
For a small business, it might not be practical to compete with discount stores, Halloween pop up stores or online shopping sites when it comes to stock items such as mass-produced costumes and decorations. However, by finding a niche of their own, they can attract local Halloween shoppers who are interested in more unique or one of kind costumes, decorations and other Halloween-related items.
Focus on Creating a Unique Experience
One reason consumers continue to enjoy and celebrate Halloween is that dressing up in costume is a reminder of our childhood and also provides us with the experience of "becoming" a hero, villain, monster or some other character for a short time. Small business owners can attract local Halloween enthusiasts this year and build buzz that brings repeat business by creating a unique shopping experience, holding an event or hosting a Halloween party of their own.
***
Elizabeth Kraus is the author of 365 Days of Marketing and the marketing manager for DB Squared, a privately held business financing company providing invoice factoring and business and merchant cash advances.