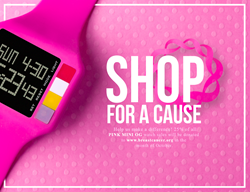 No Label Watches prides itself on being more than just a fashion company, but a supporter of just causes
New York, NY (PRWEB) October 15, 2014
No Label Watches, the fashion-conscious' accessory for self-expression, is introducing the new MINI PINK OG Watch, a smaller version of the classic OG watch series. No Label Watches is committed to donating 25% of all sales of the PINK MINI OG Watches sold in the month of October to http://www.breastcancer.org. Pledging at least $1000, the company understands the importance in making a difference.
"No Label Watches prides itself on being more than just a fashion company, but a supporter of just causes," explains Nathan Krivosheyev, co-founder of No Label Watches. " Breast Cancer is a problem that affects many people and we want to help in the fight to end it. This problem doesn't just concern women, but concerns us all, and we should all be committed in finding a cure."
The American Cancer Society states that Breast Cancer "is the most common cancer among women in the United States (other than skin cancer)." However, because of improved treatment, more and more women are surviving cancer. Donations provide funds towards research to improve treatment and ultimately find a cure. Also, contributions help women detect Breast Cancer early through screenings and health education.
ABOUT NO LABEL WATCHES
No Label Watches officially launched in 2012. The company is based in NYC and was founded by Nathan Krivosheyev, Danny Victor, Luis Diaz, and Jayvon Smith as a brand for the fashion conscious. Through events, guerilla marketing, online marketing, and celebrity contacts, No Label Watches has been able to grow its operation and be featured in publications such as Vibe, InStyle, XXL, and Complex Magazine. It was founded by the idea that each person is unique and shouldn't be boxed in by a label to be in vogue.
No Label Watches prides itself as a vibrant and adaptable brand created to service the creative and fashionable people of the world. Celebrities such as Lebron James, Jonathan Cheban, Tyson Beckford, and Rachel Roy have all been seen wearing a No Label Watch. They understand the importance of having a colorful, well-designed watch as part of their outfit. No Label Watches offers consumers an array of color options in their line of watches customizable to a person's wardrobe at reasonable prices.
For information: http://www.nolabelwatches.com
Contact: customerservice(AT)nolabelwatches.com
Phone: 914-912-0700