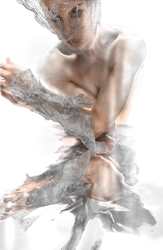 With a central subject of Shakespeare's Lady Macbeth, 'The Uncanny Lady M' series explores the gendered gaze, and what a combination of the male and female gaze look like.
Westport, CT (PRWEB) October 16, 2014
Modern tastemaker and interior designer Mar Silver opens an exhibition of riveting mixed-media works from New York City artist Grace Roselli. The collection, titled "The Uncanny Lady M," features 13 works by Roselli that explore her interpretation of identity, erotism and gender. The solo exhibition will be on view, by appointment only, at Mar Silver Design Lab in Westport, Connecticut through November 30.
"Similar to my own design style, I seek provocative artwork that inspires me, and that is what drew me to Grace's work," says Silver. "As art is an integral element of any space I design, I've incorporated her pieces into my past projects, and I'm thrilled to be representing her, and to have her latest collection featured in my Design Lab."
The Uncanny Lady M series explores the gendered gaze, and what a combination of the male and female gaze look like. The central subject is Shakespeare's Lady Macbeth, a character whose gender inhibits the ferocity of her ambitions to do what must be done.
Roselli starts with fantasy to give Lady Macbeth her wish, "Come, you spirits that tend on mortal thoughts, unsex me here" to untether her from her perceived weakness as a woman. From there, Roselli reimagines her as a cyborg queen: a post-human machine without the constraints of morality, class, race or gender. She is fierce and seductive, a disquieting beauty of pain and pleasure.
"For the series, I invited women to imagine themselves as this new post-human Lady M," explains Roselli. "Adorned only in the sculpted wearables of skin-pricking wire mesh, these women react and interact with their specific wearables as I document their improvised performance. Ultimately, the individual performer's sense of identity merges with the physical parameters of the set, becoming our own very human version of Lady M, the cyborg queen."
Based in New York, Roselli has had solo exhibitions with Anita Friedman Fine Arts Gallery in New York City, and with the Pentimenti gallery in Philadelphia. Her work has also appeared in numerous group shows, with the most recent being the exhibition, "Coup de Chapeau" at the Gemeente Museum in the Netherlands. Roselli received a BFA from the Rhode Island School of Design, and was awarded the RISD Scholarship to Skowhegan School of Painting and Sculpture. Upon graduating she was awarded a residency with the Empire State Studio program in New York City.
Located in the heart of Westport, Mar Silver's Design Lab is a headquarters for her full service design and build firm, and is a constantly evolving luxurious, high-end, modern mix of all that is currently catching Mar's fancy, including stunning art by emerging and established artists, rare finds from her travels around the world, and select pieces from her custom Plunk furniture collection and custom rugs and textiles.
For more information, or to schedule a viewing of "The Uncanny Lady M," contact Mar Silver Design Lab at 203-341-0413.
About Mar Silver
A modern luxury tastemaker who creates sophisticated, serene and often sexy interiors, Silver loves to play with the senses in her approach to modern design. Known for her ability to masterfully combine a variety of textures and finishes, a neutral color palette, along with mid-century or high-end antiques, Silver brings out the natural, organic energy of a space that ultimately is both well-appointed and well-defined. At the same time, she is respectful of and inspired by nature and loves to bring the outdoors inside whenever possible. The result is a provocative mix of high-end interiors that are stylish and chic, with a twist of the unexpected. Silver also has a keen eye for art, and is equally passionate about discovering up-and-coming artists as she is about finding important works from the more established Masters. To learn more about her work, see Mar Silver's portfolio at http://www.MarSilverDesign.com.