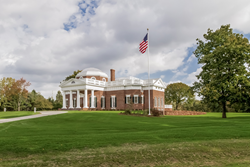 Somers, Conn. (PRWEB) October 13, 2014
William Pitt Sotheby's International Realty today announced that the company has listed for sale a Somers, Conn. estate constructed by Friendly's restaurant chain co-founder S. Prestley Blake as a replica of Thomas Jefferson's Charlottesville, Va. estate Monticello. Sherri-Lynn Milkie of the company's Old Lyme brokerage has the listing, which is offered at $6,500,000.
Blake, who has undertaken numerous building projects on his own property in recent years, conceived the Monticello project as his "swan song" upon approaching his 100th birthday. Blake held his centennial birthday celebration in the newly constructed residence on October 3, 2014, just as construction was completed.
Construction began in the summer of 2013 after Blake purchased the ten-acre property, which connects to his own 80-acre property by a wooded horse trail. He tore down the church and home that existed on the land, which had been owned by Big Y supermarket co-founder Gerald D'Amour, and decided to use the property to build a reproduction of the home he has referred to as "the country's most architecturally beautiful residence."
Blake worked with general contractor Raymond Laplante of Laplante Construction Inc. to precisely replicate the brick neoclassical-style exterior of Monticello, utilizing all of the same materials Jefferson used to create his plantation home. The replication did not extend to the interior, which was built to accommodate a more modern lifestyle, yet homages exist throughout including the blue sky ceiling mural in the entryway that recalls the skylight in Jefferson's dome room.
With nearly 10,000 square feet of living space, the residence has a total of 11 rooms with five bedrooms and five full and four half baths.
"It is our honor to represent the Blakes' magnificent tribute to Jefferson's Monticello," said Milkie. "It is wonderful to see such an important historic icon experience a new life, reproduced with a passion that can be viewed in every detail. This offering makes for an extraordinary opportunity for the right buyer."
For more information on the property, please visit the firm's website here.