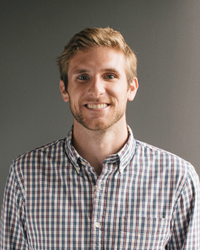 Being able to recruit young successful talent back into Central Kentucky is exciting
Lexington, KY (PRWEB) October 15, 2014
Patrick Daugherty, a Lexington native and UK College of Business alum joins Lexington, Ky headquartered Hensley / Elam in the role as Account Manager to help with expanding new business of Hensley / Elam.
"We're excited to have Patrick join us and take ownership of new business development", Russ Hensley CEO of Hensley / Elam announced on Monday. "Being able to recruit young successful talent back into Central Kentucky's Information Technology market segment is exciting".
Patrick will also have responsibilities with new business development with Hensley / Elam's Design and Branding subsidiary Shatterbox (http://www.shatterboxstudios.com).
"We expect that Patrick will be a great resource for servicing current and new clients in both organizations where the client will share resources," Hensley further commented.
Daugherty was most recently employed by American Safety Training And Resources, Inc. an Oklahoma based firm as well as RJ Corman and Red Bull.