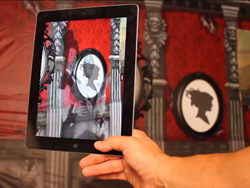 (PRWEB) October 14, 2014
A new augmented reality app makes it possible for visitors of enabled haunted houses to view mysterious phenomena on their mobile devices. The Phantom Finder app from Grisly Manor Studios is available now on the iTunes and Google Play for $0.99.
The Phantom Finder Camera App uses augmented reality technology to overlay video of costumed characters and spooky objects when pre-defined markers are detected by the device's camera. The "Phantom Finder" logo in the AR app helps users identify attractions where such markers are installed.
Venues can "haunt" themselves by purchasing printed markers from Grisly Manor's website at http://www.PhantomFinderCamera.com. Each marker triggers a specific kind of supernatural visual on the screen of an iPhone, iPad, or Android device.
Visitors with the app installed can then reveal on screen what is invisible to the naked eye. Users of the app might see:

Dripping blood
Zombies
Devils
Demons
Ghost children
A printable Home Haunter Kit is also available for use in private residences.
About the Creator
Grisly Manor Studios is a family owned and operated haunted effects company based in Portland, Oregon. As experts in "Home Grown Scares," Grisly Manor offers a unique blend of handcrafted effects, creative technical solutions, and professional attention to detail. Grisly Manor has shocked and bewitched guests at affiliated haunted houses from coast to coast.
About the Developer
Zco Corporation is a tried-and-true software development company that has been living and breathing technology for over 25 years. A proven and reliable vendor choice, Zco is passionate in its mission to create attractive, resilient products for its clients. Its powerhouse team, one of the largest in the world, was handpicked for specialties in mobile app development, enterprise software, and animation services. To learn more, visit http://www.zco.com or call 603.881.9200.