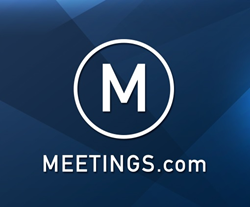 Meetings.com has developed this new app to make planning meetings faster for users, help them obtain discounted pricing for hotels, allow for improved handling of attendee information, and assist users in tracking expenses to assess return on investment
San Francisco, CA (PRWEB) October 14, 2014
Meetings.com today announced it has launched a Meetings.com app on Salesforce AppExchange, empowering businesses to connect with customers, partners and employees in a whole new way. Part of managing sales relationships is setting up meetings to facilitate communication and assist businesses in achieving their goals. The newly designed Meetings.com app empowers users to source discounted hotel rooms anywhere in the world to hold a meeting.
Built on the Salesforce1 Platform, the social, mobile and cloud customer platform built to transform sales, service and marketing, the Meetings.com app is currently available on the AppExchange at http://www.appexchange.com.
Meetings.com App Key Features
The App empowers users to request bids via the Meetings.com system. The App also allows users to accept one or more bids from the hotels within the Meetings.com system and link those hotel responses to specific events, as well as for individual users to be linked to events/reservations for information and planning purposes and allows users to see their upcoming events, locations and more details about each of their meetings.
Comments on the News
"Meetings.com has developed this new app to make planning meetings faster for users, help them obtain discounted pricing for hotels, allow for improved handling of attendee information, and assist users in tracking expenses to assess return on investment," said Tim Hentschel, Meetings.com CEO.
"Companies are looking to transform the way they connect with customers, partners and employees to thrive in today's connected world," said Ron Huddleston, senior vice president, global AppExchange & partner program, salesforce.com. "By leveraging the power of the Salesforce1 Platform, Meetings.com provides customers with the proven social, mobile and connected cloud technologies to accelerate business success."
About Salesforce AppExchange
Salesforce AppExchange is the world's leading enterprise apps marketplace that empowers companies to sell, service, market and engage for the Internet of Customers. With more than 2,200 partner apps and more than 2.4 million customer installs, it is the most comprehensive source of social, mobile and connected cloud apps for business.
Additional Resources
● Become a fan of salesforce.com on Facebook: http://www.facebook.com/salesforce
● Follow salesforce.com on Twitter: https://twitter.com/salesforce
● Become a fan of Meetings.com: https://www.facebook.com/meetingscom
● Follow Meetings.com on Twitter: https://www.twitter.com/MeetingsCom
Salesforce, Salesforce1, AppExchange and others are among the trademarks of salesforce.com, Inc.
About Meetings.com
Meetings.com focuses on business travel and helping corporate event planners book space for meetings plus hotel rooms. The mission of Meetings.com is to be the premier site for information on meeting and banquet venues plus hotels around the world. Through direct relationships with the leading hotels, meeting and banquet venues around the world, Meetings.com will quickly find clients great rooms and space for a great price. Through combining technology with their experienced client-focused team, Meetings.com provides exceptional service to help each client select the optimal hotel or venue and has the ability to develop an exclusive corporate hotel travel program always delivering a highly competitive price for their hotel travel needs.
About HotelPlanner
HotelPlanner.com provides online services to the global group hotel sales market. Its service ensures the lowest rates by allowing customers to receive quotes online directly from hotel group sales managers. The company also provides mobile applications for booking group hotel reservations and owns and operates Meetings.com, a site that provides information on meeting and banquet venues around the world for corporate and association meeting planners. Its services allow customers to book hotels for business meetings, conferences, conventions, family reunions, weddings, extended stays, tours, military reunions, church events, and group travels. HotelPlanner.com was founded in 2002 and is based in West Palm Beach, Florida. The company opened its European headquarters in London, United Kingdom in 2012 and also plans to open an office in Hong Kong in the fourth quarter of 2014.
For more information, please contact Bruce Rosenberg at (818) 661-0244 or at Bruce.Rosenberg(at)hotelplanner(dot)com.