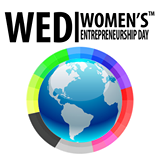 In a way, the biggest risk to an entrepreneur's success is the fear of starting.
Evanston, IL (PRWEB) December 14, 2014
Mirroring celebrations in over 150 countries, the Ladies Who Launch program in Evanston, IL enabled participants to join entrepreneurs new and experienced, coaches and mentors, share-space operators, angel financiers, service providers, University talent and City officials to explore the breadth of female entrepreneurial engagement on Chicago's northern edge. To sample the insights shared and get a sense of the excitement generated, click here for a video overview of the event.
Created and hosted by Now We're Cookin', "the goal of the day was to give local women a chance to network with other successful business owners, to learn from their shared experiences, and to acknowledge the growing contribution this energetic and dedicated group of entrepreneurs is making in our community," said Nell Funk, Now We're Cookin's owner and event emcee.
Judging from the hugely enthusiastic response, the event was the start of an annual celebration. The audience heard from Featured Speaker Linda Darragh, Executive Director, Kellogg Innovation and Entrepreneurship Initiative (KIEI) at the Kellogg School of Management, and a wide range of panelists including serial entrepreneur Elisa All - 30 Second Mobile, growth company owners Bernadette Burke - Brella Productions and Patty Erd - The Spice House, as well as local new venture owners (see attachment for full list of participants). The discussions covered the highs and lows, challenges and frustrations of starting, growing, and funding a business. To round out the conversation, the Fund panelists - including WBDC and Community Bank representatives as well as Linda Mallers - FarmLogix owner, and Kathy Herbert - Angel investor focused on female-owned businesses - helped the audience understand how funders and investors look at business concepts and what they expect from the owners. Networking during and after the panel discussions elicited wonderful business connections (and sales!), AHA moments, and great new engagement across the Evanston business community.
Attendee feedback underscored the value that Women's Entrepreneurship Day can provide: "This was a fabulous event! An amazing group of professional women speaking, sharing, and socializing. Extraordinary "first" of its kind in Evanston. Bravo to ... the ... organizers for inspiring and empowering attendees with a full day of helpful information on starting your own business!"
Now We're Cookin' wishes to thank event Partners - The Women's Business Development Center, North Shore Community Bank, Creative CoWorking, BestBuy, and Brella Productions - as well as the many food/snack providers (Lyfe Kitchen, Feast & Imbibe, Two Moms in the Raw, Chapin Coffee, Frio Gelato and Way Better Snacks) - for contributing to such a successful initial day.
About Now We're Cookin': Now We're Cookin' is an innovative center promoting culinary education and food entrepreneurship. Through its unique Food Business Incubator program it provides rental production space, training, mentoring, resources and networking opportunities for new food entrepreneurs. In its demonstration kitchen, talented chefs conduct a wide range of cooking classes and host private parties and events, as well as corporate meetings and filming.