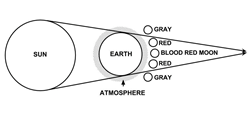 Cosmology constitutes one of the darkest shadows in the history of American science because excessive controlled by power schemes.
New York, NY (PRWEB) October 21, 2014
Pamela Fleming, Executive Vice President, The Institute for Basic Research, Florida, announces that "The recently observed 'Red Moon' establishes the lack of expansion of the universe because the Moon sees Sunlight redshifted while passing through Earth's atmosphere without relative motion. This is evidence that, light reaching us from galaxies is redshifted without the expansion of the universe due to the replacement of Earth's atmosphere with intergalactic gases" (http://www.santilli-foundation.org/Blood-red-moon.html)
"Albert Einstein, Edwin Hubble, Enrico Fermi, Louis de Broglie, Fritz Zwicky and other famous scientists died without accepting the expansion of the universe," states Pamela Fleming, "because it implies a return to the Middle Ages with Earth at the center of the universe since Hubble's law z = Hd requires that the cosmological redshift z is the same in all 'radial' directions d from Earth" (http://www.i-b-r.org/Prof-Santilli-Interview.html).
Dr. Santilli, President of The Institute for Basic Research, states, "The interpretation of the cosmological redshift via Doppler's axiom of special relative, z = Hd = v/c, where v is the speed of galaxies away from us at the distance d. Yet, vast mathematical, theoretical and, above all experimental evidence on the impossibility for the universe to expand and continues to be ignored by the descendants of the physicists of the Manhattan project; the expansion of the universe and related chain of hyperbolic conjectures continue to be trumpeted by academia and affiliated news media." (comprehensive scientific and other references are available at http://www.santilli-foundation.org/docs/No-Expansion-Releases.pdf)
Dr. Santilli has received numerous honors, including the nomination by the Estonia Academy of Sciences among the most illustrious applied mathematicians of all times; the prestigious Mediterranean Prize also granted to Hilary Clinton, Price Albert of Monaco , France President Nicolas Sarkozy, Juan Carlos King of Spain, and other famous people; and other important prizes (http://www.santilli-foundation.org/santilli-nobel-nominations.html).
The Institute for Basic Research (IBR) was founded in 1981, and housed at the Prescott House within the Harvard Compound. A Division of the IBR was organized in 1995 at Castle Prince Pignatelli in Molise, Italy, and additional divisions have been organized in Europe, Africa and China. In 1989, the IBR was moved to Florida where it operates as a non-profit corporation coordinating research by scientists in various countries on basic advances in mathematics, physics, chemistry, biology and cosmology (http://www.i-b-r.org/).
For more information, please contact
The Institute for Basic Research