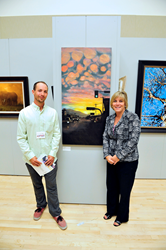 Salt Lake City, Utah (PRWEB) October 14, 2014
Salt Lake Community College held its annual President's Art Show opening reception Friday at the Center for Arts and Media and handed out awards to several artists.
SLCC President Deneece Huftalin chose Randall Forbush's "Light Bulbs" oil painting for the President's Award, which comes with a $1,000 prize. The college also purchased Forbush's piece to include in its collection on display throughout the institution's campuses.
The Rob Adamson oil painting "Bryce Canyon" received the $1,000 Best of Show award. The $500 second place award went to last year's President's Award winner Benjamin Higbee for his mixed media creation "Corollary III." And the $500 third place prize was awarded to Katie Johnson's copper brooch called "Devil's Claw."
President Huftalin gave special recognition to a purchase for the college of photographer Stephen Speckman's series of black and white gallery wrap images that depict women from the rural Haitian village of Camatin. The artist is donating proceeds from the purchase to a charity working in Haiti.
The juried exhibition is free and open to the public through October 15 at SLCC's South City Campus in the Center for Arts and Media's Multipurpose Room during regular business hours. The show features more than 100 works from professional and amateur artists using a variety of mediums to create their pieces, many of which are available for purchase.
SLCC's Center for Arts and Media is a new $45 million state-of-the-industry facility with 130,000 square feet of additional space at its South City Campus, 1575 South State Street, Salt Lake City. World-class features include a 2,000 square-foot television studio and control room, a 3,000 square-foot film stage, a 36-seat screening room, three MIDI (Musical Instrument Digital Interface) classrooms, 22 editing bays, an animation lab, radio station and a recording studio with 64 channels for collaboration in as many locations throughout the building. The Grand Theatre, adjacent to the Center, was chosen by Sundance Institute to be a screening venue during the 2015 Film Festival. The new center, which is physically connected to Innovations High School, serves an estimated 9,000 students and brings together 17 programs under one roof for SLCC's School of Arts, Communication and New Media.