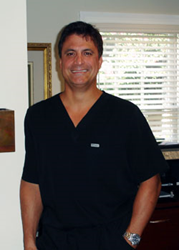 Raleigh, NC (PRWEB) October 13, 2014
During Dental Hygiene Month this October, Dr. Jason Cataldo is reminding patients with periodontal disease of the importance of visiting a periodontist in Raleigh, NC for treatment to protect oral and general health. Dr. Cataldo offers patients with gum disease the LANAP® protocol, a laser treatment that can prevent numerous health problems associated with the condition. The procedure also promises Dr. Cataldo's patients a low risk of complications.
The LANAP® protocol is highly effective at treating gum disease and discouraging tooth loss, all without causing unnecessary side effects. Dr. Cataldo performs the procedure with the PerioLase® MVP-7™, a special laser that only targets periodontal disease. Dr. Cataldo does not remove any healthy tissue during the procedure, which means teeth benefit from better support and protection afterward. As a minimally invasive procedure, the LANAP® protocol presents a low risk of infections, pain, and bleeding. Additionally, this periodontal disease treatment actively helps prevent tooth loss. The PerioLase® MVP-7™ is able to stimulate growth in the alveolar bone, which may allow affected teeth to form stronger, more stable attachments to the bone. No other FDA cleared periodontal disease treatment has demonstrated this effect.
Throughout Dental Hygiene Month, Dr. Cataldo is reminding his patients of the reasons that visiting a periodontist in Raleigh, NC for periodontal disease treatment is so important. Periodontal disease can result in gum recession, bone density deterioration, and tooth loss in addition to numerous unwanted side effects, such as bleeding and inflammation. The disease may even raise the risk of systemic health problems. Periodontal disease is a bacterial infection, and if the condition progresses far enough, bacteria can enter the bloodstream through the damaged gum tissue. These bacteria may cause inflammation or health problems elsewhere in the body. Research has established that an enhanced risk of heart disease, stroke, and other serious conditions are associated with periodontal disease. Dr. Cataldo advises patients to take this risk seriously and seek treatment for gum disease promptly.
Early symptoms of periodontal disease include gum swelling, redness, tenderness, bleeding, and recession. Dr. Cataldo encourages patients who notice these symptoms or other worrisome changes in periodontal health to schedule a consultation with a periodontist in Raleigh, NC as soon as they can. Patients can set up an appointment through Dr. Cataldo's website or by calling his office directly.
About the Practice
Periodontics and Dental Implants of North Carolina is a periodontal practice offering personalized dental care for Durham, NC gum disease patients. Dr. Jason Cataldo attended college at the University Of Buffalo School Of Dental Medicine, completed a general practice residency at Michael Reese Hospital in Chicago, IL, and completed his periodontal training at Case Western Reserve University in Cleveland, OH. He is board certified in periodontology and Adjunct faculty at the University of North Carolina at Chapel Hill. Dr. Cataldo is part of one percent of dental professionals providing the LANAP® FDA cleared laser procedure for gum disease treatment. To learn more about Periodontics and Dental Implants of North Carolina and their dental services, visit their website at http://www.carolinaperioimplants.com and call (919) 724-4273.