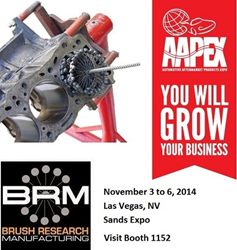 BRM Flex-Hone® tools set the industry standard for the inner diameter (ID) finishing of engine and brake cylinders, cam bearing and crank bores, and valve guides and bodies.
Los Angeles, CA (PRWEB) October 15, 2014
Brush Research Manufacturing (BRM), American-owned supplier of surface finishing tools, is announcing plans to attend the Automotive Aftermarket Products Expo (AAPEX) from November 3 to 6, 2014 at the Sands Expo in Las Vegas. BRM is also announcing the release of a new technical article and AAPEX video about surface finishing technologies for the automotive aftermarket.
AAPEX 2014 is where manufacturers build business relationships with warehouse distributors, retailers, buyers, service providers, and manufacturers' reps. For the nearly 130,000 automotive professionals expected at AAPEX, sourcing the best auto parts, tools, and equipment is a critical task in meeting the needs of the $395-billion global motor vehicle aftermarket.
Flex-Hone® Tools for Aftermarket Auto Parts
As BRM's recent technical article explains, the Flex-Hone® tool sets the industry standard for the inner diameter (ID) finishing of auto parts such as brake and engine cylinders, crank and cam bearing bores, and valve guides and bodies. Other automotive applications for flexible cylinder hones include engine liners, connecting rods, piston pin bores, cross-hole deburring, and surface finish improvement.
With their distinctive abrasive globules, BRM ball hones also remove burrs and deglaze cylinder walls. Flex-Hone® technology is also used to produce the ideal surface finish on automotive and motorcycle disc brake rotors, automotive fly wheels, and clutch plates. The Flex-Hone® for Rotors finishes more rotors per hone than abrasive pads, and is ideal for both new and re-turned rotors.
NamPower Technology and Automotive Brushes
As BRM's new video shows, NamPower technology is a high-performance family of nylon abrasive brushing tools for outer diameter (OD) applications such as finishing the tops of engine blocks. By conforming closely to part contours and removing burrs consistently, NamPower brushes also deburr and surface finish metal and plastic automotive parts.
NamPower brush tools include abrasive disc brushes, composite hub wheels, abrasive hex-drive tools, and lightweight tool holders that support flow-through cooling. As a full-line supplier of brushing tools, BRM also supplies parts wash brushes and specialty diesel tools for Cummins Group, Caterpillar, and Detroit Diesel engines. Valve guide, oil line and gallery, and display brushes are also available.
For more information about BRM's surface finishing solutions for the automotive aftermarket, contact BRM today and visit Booth 1152 at AAPEX 2014.
About Brush Research Manufacturing
Brush Research Manufacturing (BRM), makers of flexible honing tools and a full line of industrial brushes, is located in Los Angeles, California. For over 55 years, BRM has been solving surface finishing challenges with brushing technology. BRM's Flex-Hone® tool is the industry standard against which all other ID surface finishing solutions are compared.
Media Contact:
Heather Jones
Director of Marketing
Brush Research Manufacturing Co. Inc.
4642 Floral Drive
Los Angeles, CA 90022
HJones(at)brushresearch(dot)com
For Immediate Release:
http://www.brushresearch.com/
Ph: (323) 261-2193