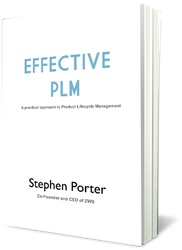 I am certain if companies apply these principles to their PLM deployments they will see remarkable gains in productivity and margin
Austin, TX (PRWEB) October 15, 2014
Zero Wait-State, a thought leader in Product Lifecycle Management (PLM) will be releasing their latest book Effective PLM at the Product Innovation PLM (PI PLM) Conference on October 21st in San Diego. The book applies the principles from Stephen Covey's The Seven Habits of Highly Effective People to PLM. Author Stephen Porter's previous book The PLM Primer introduced readers to the basics of PLM and its adoption. Effective PLM is a more advanced take on how companies manage change in their technology and process and what elements are needed to successfully adopt and utilize enterprise software like PLM. Zero Wait-State will be a sponsor at the PI PLM event and will have a booth (40) where they will have copies of both books available. They are also hosting a book signing event with Oracle on the evening of the 21st by invitation only.
PI PLM is a unique event that brings together multiple vendors and users of various PLM technologies and allows attendees to get broad exposure to the opportunities PLM affords companies. By seeing the variety of technologies and industries, attendees gain insights into how leading companies are working to streamline their product development and manufacturing processes. Zero Wait-State released their first book PLM Primer at the PI PLM event in Atlanta two years ago, so they considered it only fitting to use this year's event as a launch pad for the latest book.
Zero Wait-State's theme this year is "Wake Up Your PLM with Zero Wait-State." They will be serving Starbuck's coffee in the booth and are hoping to have the opportunity to discuss company needs and opportunities to optimize their PLM systems. PLM has matured to a point where most companies have adopted some level of technology but there is the potential to extend the PLM footprint or improve current solutions. Zero Wait-State's technical team has been selected for their industry background in PLM to assist companies with this journey.
"We are very excited to be releasing our book at this year's event. I could not think of a better venue to introduce this book. I am certain if companies apply these principles to their PLM deployments, they will see remarkable gains in productivity and margin," states author and Zero Wait-State CEO, Stephen Porter.
About Zero Wait-State:
Zero Wait-State delivers focused value in the Product Lifecycle Management solution space. We are the leading provider of Engineering Collaboration Solutions for Oracles Agile PLM. We have successfully deployed PLM and integration solutions at clients like Sun/Oracle, Harris Corporation, John Deere, and Cisco. Zero Wait-State also has a long history of data migration success helping organizations move from legacy systems to new solutions with minimal disruptions. We leverage our DesignState platform to help companies connect different applications across the enterprise and move data from system to system. Zero Wait-State offers a complete solution for companies looking to optimize their product development process. To learn more go to http://www.zerowait-state.com.