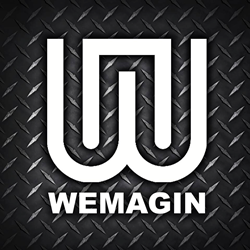 "You have to fight for your privacy or you lose it." -Eric Schmidt, CEO of Google
LOS ANGELES, CA (PRWEB) October 14, 2014
HIGHLIGHTS:

The Wemagin plugs into the computer like a flash drive, but contains its own internet browser, which leaves no digital footprint
The device is designed to unblock restricted websites
It can hold 4 terrabytes of data or more in cloud storage
Unlike other VPNs, users don't have to be tech savvy
It is being pre-sold via Kickstarter as of October 6, 2014
Internet privacy is crucial in the United States. It is every person's right to browse the web without the fear of strangers reading their emails, being the target of pop-up ads, and having their bank accounts hacked.
In countries like North Korea, internet privacy is a matter of life and death.
Children are starving or being trafficked and seeking help through unauthorized sites like The Red Cross can lead to imprisonment or even death by corrupt government.
The Wemagin is a new technology that changes internet privacy forever. This tiny device plugs into the computer like a flash drive, but contains its own internet browser, which is entirely anonymous. Users can browse the web and access sensitive information without leaving behind any history on the computer, the device, or the internet.
The Wemagin also:
Has the ability to unblock restricted websites in countries like North Korea – allowing users to access Facebook, CNN, The Red Cross, and many others
Hides the user's IP address, making them entirely untrackable
Can store 4 terrabytes of data or more in cloud storage
Is indestructible and designed to look like jewelry
Is unlike other VPNs in that it's easy to use and is significantly less expensive
Keeps the user's email anonymous (which is usually how hackers get into personal accounts)
The Wemagin launched on Kickstarter this past Sunday, October 12, 2014, allowing consumers to pre-buy the product at a reduced rate. The device is normally priced at $199 per unit, with a $5.99 monthly service fee. Those donating $99 receive the device and a year's worth of service free.
Steve W. Kim had the inspiration to create Wemagin after visiting North Korea on a mission and witnessing the unspeakable devastation firsthand. When he returned home to the United States, he hired MIT's brightest and experts from all around the world to create a technology that will not only allow people to keep bank information private, but will help children oppressed countries access the help they so desperately need.
For more information, visit http://www.Wemagin.com.