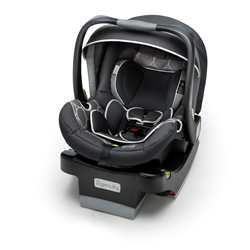 Atlanta, GA (PRWEB) October 14, 2014
Ingenuity™, a Kids II brand, and maker of the machine-washable playard, introduces an ingenious solution to the world of baby travel with its new infant car seat and stroller. The InTrust 35 Pro Infant Car Seat™ and InVenture Pro Multi-Functional Stroller™ are available online and in-store in the chic Larson™ fashion. With a host of new features, the Ingenuity Pro™ series provides the ease of use and adaptability parents look for in infant car seats and strollers.
"Parenthood is daunting enough; baby gear should help moms and dads," said Kids II and Ingenuity's On-the-Go Product Manager and certified Child Passenger Safety Technician, Heather Smith. "Our expertise in baby gear has paved the way for Ingenuity's new Pro series which has been brilliantly designed with features that give parents the confidence they've got it right."
Baby can take the first car trip home from the hospital in the InTrust 35 Pro Infant Car Seat. It is sized for infants 4-35lbs. and up to 32". The InTrust 35 Pro Infant Car Seat is side-impact tested and meets or exceeds all federal crash test standards, making this infant car seat Seriously. Safe.™ The InTrust 35 Pro features the SmartAdjust Headrest™, so as you tighten the harness, the headrest and harness adjust simultaneously – making safety easier. And, as baby grows there's no complicated re-threading of the harness. For added comfort, the seat's AirInfuse™ feature allows air to circulate through ventilated panels.
The InTrust 35 Pro Infant Car Seat comes with a car seat base and is designed for easy installation. SureClick™ technology issues an audible "click" so parents can be positive the base and the seat are properly secured. The base includes a one-hand level adjust, easy-to-see level indicators, and easy-to-use push-button LATCH connectors. In addition, the base is designed with SeatRelief™, a smooth surface without harsh ridges that can damage your vehicle seat.
The InTrust 35 Pro Infant Car Seat can easily be coupled with the InVenture Pro Multi-Functional Stroller to form a complete travel system. The InVenture Pro is available for purchase separately and features a Multi-View Seat TM with two seat positions so baby and mom can either face each other or face the day. When combined with the InTrust 35 Pro, the stroller seat is swapped for the infant car seat. The stroller also includes SureClick, to ensure a secure connection between the infant car seat and stroller. The InVenture Pro also features a height-adjustable handle, one-touch center brake with all-wheel suspension, a removable insert and a convertible five-to three-point harness.
The InTrust 35 Pro Infant Car Seat MSRP is $169.99 and the InVenture Pro Multi-Functional Stroller's MSRP is $199.99. Additional bases can be purchased for easy car seat transfer between vehicles. The InTrust 35 Infant Car Seat Base™ MSRP is $69.99. Moms who are ready to hit the road with confidence may now purchase Ingenuity's Pro series from Amazon.com, Target.com, Walmart.com and at Babies "R" Us stores and online.
To learn more about the Ingenuity's Pro series, visit ingenuitybaby.com/travelsystems.
About Ingenuity™
Ingenuity designs and develops the industry's most intuitively-designed gear for babies, with a focus on smart, easy-to-use products that help parents adapt seamlessly to life with a baby. Every design is based on modern styling and technologically-savvy solutions that were designed with parenthood in mind.
Ingenuity is part of the Kids II family of brands. Visit ingenuitybaby.com.
About Kids II
Kids II has a 40-year history of developing industry-changing innovations for families across the globe and has quickly becoming a world-leading baby and infant product company. The brand portfolio strength runs deep with seven brands under the Kids II umbrella: Bright Starts™, Ingenuity™, Comfort & Harmony, Disney™, Baby Einstein™, Oball™ and Taggies™. Through its brands, Kids II is a powerhouse of creativity, diversity and innovation, uniquely matching the individual needs of every parent and baby. Headquartered in Atlanta, Kids II spans globally with 13 global offices in six continents serving customers in more than 72 countries.
Learn more about Kids II, like our Facebook page, or connect with us on LinkedIn.