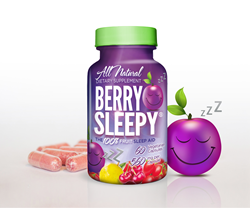 Only now have we had the chance to step back and design a great looking bottle
Overland Park, KS (PRWEB) October 15, 2014
Berry Sleepy, the 100% fruit sleep aid, has dramatically upgraded it's branding by introducing both a new bottle design and product website.
The new bottle replaces a very basic white pill bottle and label that was more practical than flashy.
"When we launched Berry Sleepy, we were more focused on developing the fruit formula and getting it to the public quickly. Only now have we had the chance to step back and design a great looking bottle" said co-founder Greg Doring.
Also updated was the product's website as the company said goodbye to a standard eCommerce template and built out a custom site at BerrySleepy.com.
Both projects were the result of "crowdsourcing" which wikipedia defines as a "process of obtaining needed services, ideas, or content by soliciting contributions from a large group of people, and especially from an online community."
"Crowdsourcing is powerful equalizer for start-up companies to get top notch results for a fraction of the cost of traditional methods. Working with designers from all over the world was a fantastic experience" said Doring.
Now that the new look is in place, Doring and partners plan to ramp up marketing and introduce the healthy sleep aid to a wider audience.
Berry Sleepy is a one-of-a-kind natural sleep aid created by Greg and Adrienne Doring after their newborn baby aggravated sleep issues in both parents.
The product is made entirely from three superfruits that have been proven to help induce sleep: passion fruit, tart cherries and goji berries. In addition to improving sleep, the fruits contain vitamins and antioxidants.
Berry Sleepy was introduced in January of 2013. The product's website, BerrySleepy.com, sells 60 capsules for $39.95. Accompanying the product is a 110% money-back guarantee.
Berry Sleepy is also available on Amazon.
To learn more about Berry Sleepy, purchase or view retail locations, visit BerrySleepy.com.