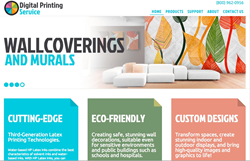 If you can think it, we can print it.
Atlanta, GA (PRWEB) October 16, 2014
Digital Printing Service, a member of the family of companies of The Flag Company, Inc., announces the launch of the redesign of their website, highlighting the many new printing products they can now offer thanks to the recent addition of one of the few revolutionary state-of-the-art, 64" latex printers in the country.
Excited to enter a new era of ingenious printing capabilities, Digital Printing Service now offers the possibility of using formerly difficult-to-work-with materials, fabrics, and substrates to create as many designs and uses as customers can imagine.
Lightning fast production speeds and exceptional high quality output, thanks to water-based latex inks, are some of the new outstanding features that come together in this new printing process on porous textiles as well as producing durable and scratch-resistant indoor and outdoor prints, double-sided vinyl banners, Coroplast yard signs, floor graphics, removable vinyl wall art work, canvas, uncoated materials, and much more. Of course, traditional signage substrates work perfectly, if not better, with this new printing marvel.
Because prints completely cure and dry inside the printer, items are ready for immediate finishing and delivery because these water-based latex inks set the pigments on the print surface.
Opening a door for innovative creations and designs, The Flag Company, Inc. also wants to put creative minds to the test. "We challenge our customers to open their imaginations, and ask us to do the 'impossible'," says Mike Lawrence, Vice President of The Flag Company, Inc. "We want to see just how far we can go with this great, new innovative technology. If you can think it, we can print it."
Also possible are car graphics or car tattoos, (imagine flamboyant flames on the side of a moving car!), exceptionally oversized Christmas decorations such as huge printed ornaments for large bay windows, or doors disguised as wrapped packages, and even wall paper.
"We are also very interested in expanding into the market of removable vinyl wall art," notes Lawrence. "This is an up-and-coming popular item and this new printer can handle these items perfectly."
Just in time for the fall holiday season, Digital Printing Service is revved to go.
About The Flag Company, Inc.
In addition to being the largest online supplier of flags and flagpoles, The Flag Company, Inc. owes its start to the success of its original product, Farming Flags®. The Flag Company, Inc. also manufactures its patented Flagpole Beacon for its Illuminator Series flagpoles and for single sale retrofits. Eighteen distinct categories of customers can choose from an expansive inventory of over 6,500 items. The Flag Company, Inc. now also partners with a machine and manufacturing company, expanding its capability to provide custom brackets, finials, hardware, etc. for special situations. Additionally, it is collaborating on creating robotic equipment for use in the flagpole industry.
With special and challenging projects a strength for The Flag Company, Inc., resumé highpoints include flagpoles for Georgetown University in Qatar, the Spiral Rotonde at Aruba International Airport, and Dow Chemical Headquarters in Michigan, and the 1996 Centennial Olympics in Atlanta, GA, and prior. Celebrating 25 years of providing excellent products and customer service, The Flag Company, Inc. appreciates all its loyal customers and hard-working employees as it looks forward to many more years of leading the industry. The Flag Company, Inc. has websites targeting its many customer categories: http://www.flagco.com, http://www.flagpolewarehouse.com, http://www.valley-forgeflag.com, http://www.feelgoodlightups.com, http://www.toothpickflag.com, and http://www.digitalprintingservice.net.