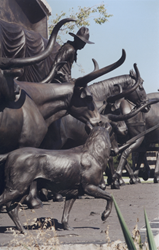 "We are very appreciative of the help and support we received from DAEDF, First Bank and Trust and many others that made this possible". David Nichols, President, DR2
Duncan, OK (PRWEB) October 16, 2014
Duncan Area Economic Development Foundation (DAEDF) is pleased to announce a new business in Duncan, Oklahoma.
Duncan Recycling & Refining (DR2) is a manufacturing company bringing excellent jobs with benefits to the community. The new business will occupy the 21,875 square foot building built by DAEDF in January of 2014. The building will be expanded upon to meet the customized needs of the new company.
David Nichols, president of DR2, stated that the company plans to invest nearly $8M in establishing a state of the art platinum group metals refining process. This location will recycle and process spent automobile catalytic converters and capture platinum group metals. The plant will process about 12,000 pounds of material per day, about 6,000 individuals converters. When the plant is fully operational in the fall of 2015 it will employ around 65 full time employees. Further planned expansion in 2016 will potentially add an additional 40 full time employees. The salaries will start at 1.5 times the average county wage.
David Nichols, and his two partners Mark Spradling and Steve Threet, feel that with their combined experience in designing, licensing and operating nuclear facilities and processes provides them with a great foundation for the safe and effective operation of the new plant. All three are pleased to be in Duncan, especially Nichols, who is returning to his roots as he is a Velma native.
For additional information or to see how Duncan would be a great location for business, please contact Jeannie Bowden at the Duncan Area Economic Development Foundation at 580-255-9675.