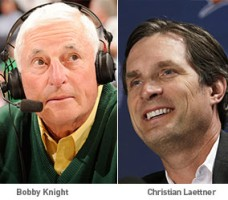 "We are thrilled to announce Bob Knight and Christian Laettner as our celebrity hosts for The NCAA Experience VIP pregame hospitality event in 2015," said Sam Soni, CEO of PrimeSport
Atlanta, GA (PRWEB) October 16, 2014
PrimeSport, the official ticket and hospitality provider of the NCAA, today announced former Indiana University basketball coach Bob Knight and former Duke University basketball student-athlete Christian Laettner as celebrity hosts of The NCAA Experience VIP pregame party at the 2015 NCAA Men's Final Four in Indianapolis. The NCAA Experience VIP pregame party will take place prior to the semifinals on Saturday, April 4, and the championship game on Monday, April 6.
"The NCAA basketball tournament is one of the greatest sporting events that we have in the United States. I always enjoyed the opportunity to participate in the tournament along with trying to play well as a team and go as far as possible," said Coach Knight. "PrimeSport does a great job of taking fans to the next level with The NCAA Experience VIP pregame party. I am looking forward to coming to Indianapolis for the 2015 Men's Final Four on Saturday, April 4th."
"The NCAA Experience VIP pregame hospitality party at this year's Men's Final Four is going to be a great event and I'm thrilled to be hosting it with Coach Knight," said Christian Laettner. "Over the years PrimeSport has consistently delivered unique and VIP experiences for fans attending the Final Four, and I'm looking forward to joining the 2015 festivities in April."
The NCAA Experience program managed by PrimeSport provides college basketball fans with the opportunity to experience the NCAA Men's Final Four in style. Official VIP pregame hospitality features upscale food presentations, premium open bar, live entertainment and a chance to meet legendary coaches and players, including Knight, Laettner and many more. VIP pregame hospitality is available for purchase with or without Final Four tickets and fans can rest assured knowing they are buying directly from the NCAA's only approved ticket, hospitality and travel package provider.
"We are thrilled to announce Bob Knight and Christian Laettner as our celebrity hosts for The NCAA Experience VIP pregame hospitality event in 2015," said Sam Soni, chief executive officer of PrimeSport. "Indiana is known for its basketball history. Having NCAA legends like Coach Knight and Christian as our hosts will truly provide a unique experience to fans in attendance."
For further information and to purchase official tickets and VIP hospitality for the 2015 NCAA Men's Final Four, please visit NCAA.com/VIP.
About PrimeSport:
PrimeSport is the leader in providing direct access to the biggest sporting events, offering tickets, travel, hospitality, and VIP experiences for corporations, professional sports teams and fans. PrimeSport's extensive experience in sports travel, hospitality and ticketing has allowed the company to form long term, official partnerships with some of the largest sporting events and organizations in the country. As a result, PrimeSport can provide more exclusive access to more events than any other company in the industry. Official partnerships include select NCAA Championships®, including the NCAA® Men's Basketball Championship and Final Four®, Men's College World Series®, Division I Wrestling Championships, Women's College World Series®, Women's Final Four®, Women's Volleyball Championship and Men's Frozen Four®, 20 NFL teams, 2015 College Football Playoff National Championship, Rose Bowl, Sugar Bowl, Alamo Bowl, Orange Bowl, Holiday Bowl, Poinsettia Bowl, Chick-fil-A Bowl, Chick-fil-A Kickoff Game, AdvoCare Texas Kickoff, State Farm Champions Classic, Jimmy V Classic, 2K Classic, Gotham Classic, Legends Classic, Wrangler National Finals Rodeo, Feld Motor Sports, more than 40 major NCAA Division I universities, nineteen NASCAR speedways and more. PrimeSport is a privately-held company, headquartered in Atlanta, GA. For more information, visit http://www.primesport.com or call 800/591-9198.
About the NCAA
The NCAA is a membership-led nonprofit association of colleges and universities committed to supporting academic and athletic opportunities for more than 450,000 student-athletes at more than 1,000 member colleges and universities. Each year more than 54,000 student-athletes compete in NCAA Championships in Divisions I, II and III. Visit http://www.ncaa.org and http://www.ncaa.com for more details about the Association, its goals and members, and corporate partnerships that help support programs for student-athletes. The NCAA is proud to have the following elite companies as official Corporate Champions ‒ AT&T, Capital One and Coca-Cola ‒ and the following elite companies as official Corporate Partners ‒ Allstate, Amazon (Kindle), Buffalo Wild Wings, Buick, Burger King, Enterprise, Infiniti, LG, Lowe's, Nabisco, Northwestern Mutual, Reese's (Hershey's), Unilever and UPS.
NCAA, Final Four, Frozen Four, Men's College World Series, NCAA Championships, The NCAA Experience, Women's College World Series and Women's Final Four are trademarks licensed or owned by the National Collegiate Athletic Association. All other marks are property of their respective holders.