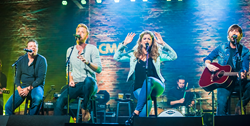 The rest of 2014 and into 2015 looks to be very promising and we are glad to have the likes of South Carolina Public Television and others throughout the country partnering with us.
Charleston, SC (PRWEB) October 14, 2014
South Carolina's Public Television station ETV will begin airing the new season of the critically acclaimed show Front and Center, on its stations beginning this month with the show carrying a local Charleston connection. Don Maggi, Executive Producer of the concert series and CMA Chief Executive Officer, Sarah Trahern, announced the dates that public television stations across the country will start airing two, hour-long concert specials leading up to Country Music's Biggest Night™, "The 48th Annual CMA Awards." The announcement made in New York City during a press conference, also included homegrown favorite Darius Rucker, to announce the final nominees for the 2014 CMA Awards.
The first of the two shows will be available to public television stations beginning Tuesday, October 14 and will feature a special 10th Anniversary CMA Songwriters Series Celebration with CMA Award winner Dierks Bentley. Capturing the authentic in-the-round experience, Bentley is joined by Jim Beavers, Ross Copperman, Brett James, and Jon Randall.
The second show, available to public television stations beginning Tuesday, October 28, features CMA Award winners Lady Antebellum performing in an intimate setting. The trio will showcase their signature hits and offer a first taste of new music from their upcoming fifth studio album, 747. The group shares personal stories from the road, the writing room, and the events that inspired their music, and are joined by songwriters Rodney Clawson, Tom Douglas, Josh Kear, Luke Laird, and Abe Stoklasa for some special collaborations.
The popular music performance television show, Front and Center, is the brainchild of New Jersey-based Executive Producer Don Maggi, a seasoned marketing executive and Charleston businessman and entrepreneur, Denis Gallagher, Executive Producer of Front and Center and Founder of Charleston-based production company Charliewood Pictures. "Don and I met when I was looking for a music venue to expand Charliewood's film business and I saw a natural fit of bringing film and music together utilizing Don and his talents and vast experience. He is a tremendous marketing executive and he had the concept ready to go so we joined together and made it happen. Our time together has been a real success. In just a year and a half we have produced over 34 shows." said Gallagher.
Aside from the recent tapings in Nashville, episodes of Front and Center have been filmed mostly in intimate venues in New York City but Front and Center is considering filming some performances for upcoming episodes in Charleston.
"Charleston is ripe with so many incredible venues that reflect the charm and history of the Holy City. Venues such as the Charleston Music Hall, the Sottile Theatre, Dock Street Theater and the new Gaillard are amazing and would make for great locations for future Front and Center shows. This is our 4th season of Front and Center being shown on air this fall and as we head into our 5th season we welcome ETV's participation in helping give access to the arts to their viewers allowing them to witness new music and experience exceptional performances," stated Mr. Gallagher. "We will also be launching our second television program called Speakeasy which will feature top musical artists being interviewed by their own high profile friends. This week we will be having shows with Carlos Santana being interviewed by Harry Belafonte and John Mellencamp being interviewed by Rolling Stone's Jann Wenner. Recent guests on the show have also included Roger Waters of Pink Floyd and Grammy Award winner Niles Rodgers. The rest of 2014 and into 2015 looks to be very promising and we are glad to have the likes of South Carolina Public Television and others throughout the country partnering with us."
###
About Front and Center:
Front and Center is a music performance series that launched in Spring 2012 on public television. The one-hour broadcasts present an eclectic mix of Grammy-winning, multi-platinum selling industry veterans and chart toppers, including Cyndi Lauper, Jack Johnson, Keith Urban, The Fray, Train, James Blunt, The Goo Goo Dolls, Richie Sambora and more. Front and Center is a production of Front and Center Entertainment, LLC in association with WLIW LLC, for WNET, and distributed by American Public Television. For more information please visit http://www.FrontAndCenter.com.
About South Carolina ETV:
South Carolina ETV is the state's public educational broadcasting network with 11 television and eight radio transmitters, and a multi-media educational system in more than 2,500 schools, colleges, businesses and government agencies. Using television, radio and the web, SCETV's mission is to enrich lives by educating children, informing and connecting citizens, celebrating our culture and environment and instilling the joy of learning.