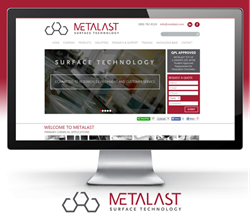 "They listen, they discuss, and they advise. SOJO Creativo is not just your web design company, they are your partner," said Dean Meiling, President and CEO (MST).
(PRWEB) October 16, 2014
WHY THE NEW SITE:
The new website supports the reinvention of METALAST's vision, which enables METALAST to refocus its core priorities. METALAST's vision is to be the leader in environmentally responsible coatings and surface technologies, committed to research, development, and customer service. One of the primary goals for redesigning the website is to help customers get to know METALAST better and begin to experience who MST is as a company.
"We focus on creating synergistic and symbiotic relationships with our customers and employees, which has been instrumental to our growth and success. We are a team of experienced professionals who will go the distance, who pay attention to detail, and who are devoted to make you more efficient and effective at what you do," said Dean Meiling, President and CEO.
SITE FEATURES:
METALAST's new website welcomes visitors with a clean and uncluttered design. The content is focused on providing customers with the latest information about MST products and services, and sharing MST knowledge and expertise with metal finishing chemistry. The site was redesigned with user-friendly navigation, enhanced product information including more downloadable files, social sharing features, and overall user experience. The visitors will find everything they are looking for in a few easy clicks.
WHAT'S NEXT:
The website will be updated on a regular basis, with new products, publications and pertinent content. In the months ahead METALAST is planning to launch a responsive design, which means that visitors will see essentially the same design optimized for their smart phone, tablet and desktop.
THE DEVELOPERS:
"While vetting several web design companies we searched for someone experienced, who fit our budget and had the right style and skillset. SOJO Creativo met all our requirements. They are a full-service company that creates custom designs to meet clients' goals, gives advice instead of 'selling' the most expensive solution, and practices open and direct communication," said Aga Dabrowska, Marketing Manager (MST).
"We enjoyed working with the team at METALAST. They knew exactly what they wanted, but were very open to explore new ideas and suggestions. We could tell from the start, their professionalism and willingness to work with us was as impressive as their technologies. We are very excited to continue working with them in the future," said Miles Johnson, Principle & Creative Director (SOJO).
ABOUT METALAST:
METALAST Surface Technology (MST) is a business-to-business provider offering metal surface engineering solutions. MST was the first chemical company licensed by the United States Department of Defense, United States Navy to commercialize and bring to market TCP-HF, a replacement for the carcinogen Hexavalent Chromate.
MST's comprehensive line of metal finishing chemistry is a one-stop solution for all needs including cleaning, extending corrosion resistance, and sealing, improving paint adhesion and coating durability. MST patented and proprietary chemistries are internationally recognized for providing environmentally responsible metal treatments and solutions.
Learn more at: http://www.metalast.com
ABOUT SOJO CREATIVO:
SOJO Creativo is a full service Creative Firm and Media Development Company. SOJO crafts Brands, User Experiences, Websites, Apps & more. Specializing in all aspects of design, development and deployment, SOJO works closely with partners and clients to produce engaging and effective digital solutions.
Services include: UX/UI for Web + Mobile, Design & Dev for Web + Mobile, Corporate Identity, Print Design, Video Production, Social Media Management, Project Management & Search Engine Marketing.
Learn more at: http://www.SOJOCreativo.com