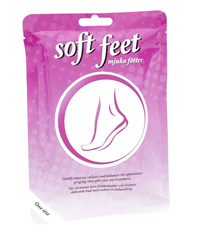 Unlike pumice stones, lotions or other treatments, one 90-minute treatment with Soft Feet will keep your feet smooth and supple for three to four months
Boca Raton, FL (PRWEB) October 14, 2014
Dry, cracked, and hardened feet could be 90 minutes away from natural refreshment, thanks to Trident Soft Feet. The revolutionary skin care system comes from Sabeline Sweden AB and is now available for purchase on Amazon.com, the world's largest online marketplace.
"After much success worldwide, we are thrilled to launch our Soft Feet product here in the U.S. market through Amazon.com," said Niklas Gardewik, CEO of Sableline Sweden AB. "We are confident that this expansion into the Amazon marketplace will bring an even greater demand for our product, and allow more people to take advantage of this truly effective approach to foot care, which softens, moisturizes, and prevents dry skin."
The Soft Feet solution is unlike any on the market, as the formula is from a special Japanese process. It is made up of raw materials, like soapwort and citric acid. These specially selected ingredients are milder than other acids and therefore gentler on the skin. Soft Feet are safe to use and cause no side effects. They penetrate deep into the layers of skin and easily soften callouses. Unlike many similar treatments, there are no messy applications or rough removals.
Instead, you simply slide on the Soft Feet sock and wait 90 minutes, during which the healing mixture painlessly penetrates calluses, while moisturizing and softening the skin. During the next ten days, the outer layers of callous and dead skin will peel away, releasing the youthful skin hiding underneath and removing odors.
"This is a truly outstanding product that gets results quickly," said Gardewik. "Unlike pumice stones, lotions or other treatments that require long commitments of time and effort, one 90-minute treatment with Soft Feet will keep your feet smooth and supple for three to four months."
To purchase Trident Soft Feet on Amazon.com, please visit: http://www.amazon.com/Sableline-Soft-Feet/dp/B00K1GTIMY/ref=sr_1_1?s=beauty&ie=UTF8&qid=1413207514&sr=1-1&keywords=soft+feet+sableline
To learn more about Sableline Sweden AB, visit http://www.sableline.se/en