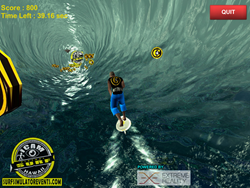 Herzalia, Israel (PRWEB) October 16, 2014
Extreme Reality, the only company to bring full-body 3D motion controlled gaming to any device via a standard 2D camera, today announced the integration of its technology with iCAMsurf, a division of Surf Simulator Events, available on any Windows device. iCAMsurf, the virtual surf party-in-a-box, was originally launched as a Kinect-based game, but Surf Simulator Events wanted to expand the experience to anyone who owned a PC and not limit the interactive game to specific locations and dedicated hardware. Thus, Surf Simulator Events implemented Extreme Reality's SDK and with the new integration iCAMsurf can now be enjoyed indoors and outdoors via any PC device. Watch the demo video here.
The first company bringing Extreme Reality's technology to market via iCAMsurf is C4Waterman, a surfing gear manufacturer and store based in Hawaii. The interactive game will be placed within the retail store with branded modifications of the surfer widget and equipment to fit the C4Waterman brand. The next company to launch iCAMsurf is a hotel in Hawaii that will provide guests with the virtual surfing experience.
"The iCAMsurf software combines the power of our unique game along with Extreme Reality's 3D motion recognition technology to maximize the user's interactive experience," said Paul Goo, CEO and Founder at iCAMsurf a division of Surf Simulator Events. "Because of Extreme Reality's flexible technology which can be used in any environment/location, for the first time, we're able to create a life-like experience where hopeful surfers can surf the virtual wave."
"One of the key differentiating factors of Extreme Reality's technology is the ability to be utilized in any lighting conditions, something most motion recognition technologies have yet to accomplish," said Asaf Barzilay, VP Products at Extreme Reality. "Integrating our SDK into an interactive, virtual game like iCAMsurf showcases the full spectrum of our capabilities and we couldn't be happier about the partnership."
Offered as an SDK, Extreme Reality's Extreme Motion is the only technology to provide full-body, software-based, motion analysis and control to any computing device or operating system via a standard 2D camera. The patented technology allows developers to easily add motion control to existing games or applications, and to create a wide range of new experiences.
Developers interested in integrating Extreme Motion technology into their game or app can visit the Extreme Reality developer zone at http://www.xtr3d.com/developers.
About Extreme Reality
Extreme Reality enables a future where people interact with computing devices through the motion of their body. It is the only company to provide full-body, software-based, motion analysis and control to any computing device or operating system via a standard camera. Offered as a software development kit (SDK) and with 21 patents granted worldwide, the company's Extreme Motion product enables developers to create a wide range of experiences (applications, games, security solutions and more) that pioneer Natural User Interfaces (NUI) while breaking the physical barriers of current hardware-based technologies. Extreme Reality was founded in 2005 and is based in Herzelia, Israel.
About iCAMsurf
CAMsurf a division of Surf Simulator Events has been in the marketing/advertising and promotions business for over 20 years across the globe from Dubai, Japan as far as South Africa delivering "experiential" events to promote brands and entertain. With team backgrounds coming from Atari, Nintendo, Sega and Nordic track, the group has developed successful, interactive software focused on engaging any age and culture. Their worldwide reputation is based upon their patented "Virtual Surf Simulator Systems" which use a real electronic surfboard to teach people how to surf and sharpen their balance skills on dryland. The iCAMsurf system is a completely new alternative requested by many clients who are subjected to limited space, manpower and need quick deployment time. Sans electronic surfboard, the new guest experience is simplified – a standard webcam reads the movements of the guests (standing directly in front of the video screen) to control the exciting surf action while the spectators are exposed to the brand and product images.